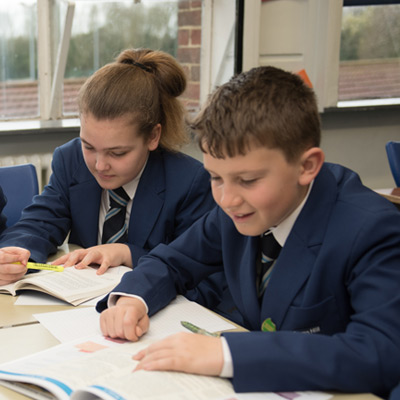 Department Ethos
Studying English at Cams Hill School is an exciting journey through a variety of reading and writing skills that will prepare pupils fully for their life after school. Reading encapsulates not only modern literature but 19th century literature, poetry and a range of non-fiction texts; writing allows the pupils to be creative with vivid descriptions, strong arguments and clear explanations. The rich curriculum offered at Cams allows the pupils to engage in fun and exciting lessons with interesting and well experienced teachers. Pupils are encouraged to take part in a range of learning activities, building personal resilience through apprentice and mastery tasks. Speaking and listening tasks build on discussion in the classroom to solidify the confidence aspect of our personality that is so important in a well-rounded pupil.
"Thank you for motivating me in my English lessons and helping me want to aim higher. I hope you will continue teaching with lots of enthusiasm (it helps). Thank you."  – Mphaso, Ex pupil

"If you only read the books that everyone else is reading, you can only think what everyone else is thinking." – Haruki Murakami

"No two persons ever read the same book." – Edmund Wilson
Learn more about English at Key Stage 3
English at KS3 focuses on the key areas of reading, writing and speaking and listening in a fun, motivating and engaging way. The curriculum aims to instil high challenge within the pupils and build on the pupils' knowledge from primary school to prepare them for the challenge of KS4 and their GCSEs.
As a core subject, class sizes for English are on average 26, however, our Literacy for Learning groups in Year 7 have just 10 in order for the pupils to get lots of help from their experienced teachers.
Click here to download Key stage 3 Programme of Study
Learn more about English at Key Stage 4
English Language GCSE examines the way writers express themselves in both literature and non-fiction. Pupils explore literary, creative and non-fiction texts from the 19th, 20th and 21st centuries as part of the course and will be taught to understand and analyse what they read, as well as producing their own writing across a range of different text-types and purposes. The course also includes assessment of pupils' own spoken language.
English Literature GCSE  allows pupils to explore a range of literary texts for English Literature GCSE. This includes the study of Shakespeare, a 19th century novel and a range of modern texts and poetry.
Click here to download Key stage 4 Programme of Study
Extra Curricular
We offer a range of extra-curricular activities to support learning in the classroom.
Youth Speaks – a public speaking competition which is open to all years.
BBC News School Report – a chance for 15 Year 9s to be reporters for a day.
English/Drama trips to various plays at The Mayflower theatre in Southampton.
Creative Writing club – open to all pupils on a Monday after school.
Talk the Talk – a confidence building activity for Year 10 to spark excitement in GCSE Spoken Language Endorsement.
Regular revision sessions for Year 11.
Links
AQA English Language Specification
http://filestore.aqa.org.uk/resources/english/specifications/AQA-8700-SP-2015.PDF
AQA English Literature Specification
http://filestore.aqa.org.uk/resources/english/specifications/AQA-8702-SP-2015.PDF
Download KS3 English Programme of Study
Download KS4 English Programme of Study