School Vision, Aims and Values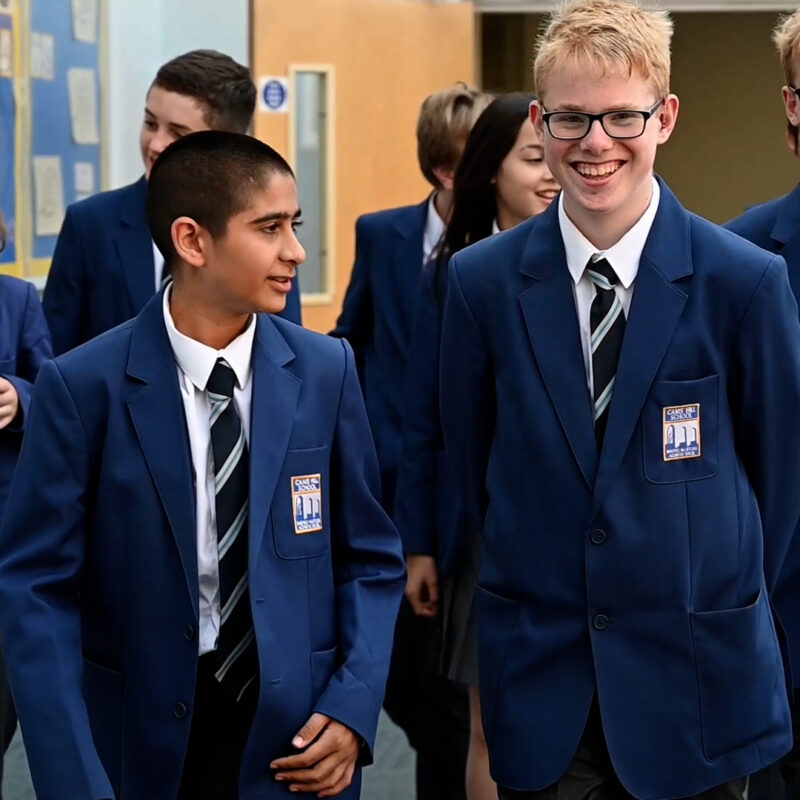 We are a school with a broad and balanced curriculum, a traditional culture of academic rigour and a programme of phenomenal co-curricular opportunities for all pupils.
At Cams Hill School, we develop highly qualified, confident, resilient pupils based around four key principles. We work hard to:
#Inspire all pupils, providing challenging, engaging, enjoyable learning experiences, maximising progress, achievement, attainment and enjoyment;
#Nurture and care for all our pupils. We provide high quality advice, guidance and support along with personalised care. All our pupils feel valued and are therefore enabled to achieve to their potential.
We ensure each and every pupil is given opportunities to;
#Achieve to the highest possible standards. They are given a strong academic foundation and develop skills and attributes to go far in life beyond Cams Hill. We are very proud that our pupils leave us as confident, resilient, lifelong learners;
#Excel above and beyond. At Cams Hill School there are no limits. We strive to stretch and challenge all and actively encourage them to aim high; to make mistakes, overcome obstacles and learn, with our support and guidance, to bounce back. 
Cams Hill School – What makes us unique?
Choosing a place at secondary school is crucial decision. We are confident that by choosing Cams Hill School, you are securing an enjoyable, challenging, varied, enabling five years of schooling for your son/daughter.
We are incredibly proud of our school. We have:
excellent outcomes. Results matter to every pupil as they opens doors to their future;
high expectations of pupils academically and socially;
a vibrant school culture that is traditional, academic and creative;
polite, engaged, committed pupils;
departments that are fully staffed by specialists;
high quality teaching and learning;
average class sizes for core subjects at Key Stage 4 of 24 pupils;
a relentless focus on staff professional development to ensure the continued development of pedagogy and practice;
a broad and balanced Key Stage 3 curriculum along with a variety of GCSE opportunities at Key Stage 4;
excellent participation rates Post 16. Our pupils are ready to thrive when they leave;
an art, photography, dance, music, drama culture that permeates throughout the school;
the most successful, dedicated PE department in the local area evidenced by the range of activities offered and the percentage of fixtures completed;
introduced Dance this academic year to the curriculum at Key Stage 3 and 4;
a Year 7 Sports Award, unique to Cams Hill School focussing on the importance, benefit and values associated with taking part in regular exercise and eating healthily;
trips and visits that provide pupils with the widest range of opportunities you could wish for in a state secondary school including; Battlefields History Trip; Geography trip to Iceland; History trip to Berlin; trips to Spain and France run by the Languages department; a French water sports activities week; Music tours, concert opportunities; art trips;
great facilities and a strategic premises plan to ensure that our facilities for teaching and learning across all subjects continue to evolve and improve;
secured substantial funding from Sport England to re-develop our netball / tennis court areas.
Cams Hill School – The Future
Cams Hill School has a clear strategic plan to ensure continual improvement with specific, measurable targets.
Cams Hill School has strategies and plans in place for developing the stretch and challenge across all subjects within the Key Stage 3 curriculum and ensuring that pupils are prepared throughout Key Stage 3 for the increased knowledge and content that is required for new GCSE specifications at Key Stage 4. Improving outcomes whilst providing an enjoyable yet challenging school experience is our core business.
We are committed to ensuring that this continues to permeate our entire school community.