The Cams Eco Strategy 

There is no planet B.
We really believe that our students can go above and beyond, whether it's in their school work, extra-curricular activities… or efforts to protect our environment.
Over the last two years at Cams Hill School, we've been thinking about how we can make a positive difference to our planet, not just for ourselves but for future generations.
This is where our "Green Cams Commitment" comes in.
What is the Green Cams Commitment?
The Green Cams Commitment is our promise to do whatever we can to protect and futureproof our environment in our everyday lives. This could be taking big steps or small ones, at school or at home. We know that change doesn't happen overnight, but when lots of people make small changes every day, this can soon add up to something big.
What steps have we taken so far?
Last year, we aimed to use 100% recycled paper from sustainable sources. And we cut down on waste paper and unnecessary printing by investing in a system that promotes "eco-friendly" printing options.
At the moment, we can't avoid all printing… but we can ask ourselves if we do really need to print something. Could we look at it on-screen instead? Are we recycling the paper we're using afterwards?
You'll have noticed our new recycling points around the school, along with recycling bins in every classroom. Why not start by recycling one extra piece of paper or plastic every day? At school and at home? This would add up pretty quickly!
What's Next?
We're really pleased with our progress so far, but we know that our students have the motivation and commitment to our environment to do more. Much more.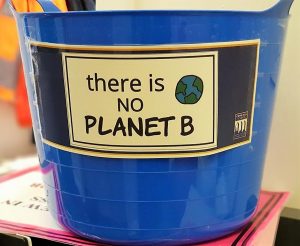 Our next target is to reduce single-use plastics as much as possible. After all, unless we all make changes today, the World Economic Forum estimates that by 2050 there will be more plastic than fish in our oceans.
Students are encouraged to use our Plastics Bins, positioned around the site to ensure we are all doing our bit to reduce the plastic waste in our community. We also have battery recycling points and bottle top lids being sent and recycled by Lush cosmetics.
This year we are proud to announce that our canteen has switched to biodegradable food packaging, which we can dispose of in an environmentally friendly way.
But this is just the start!
The Cams Eco Lunchbox!
We're excited to introduce our new "Cams Eco Lunchbox". For just £2.50, students can invest in our environment by picking up their very own lunchbox, which we hope will last them throughout their time at school. Students can use the Cams Eco Lunchbox to store food from the canteen, reducing single-use packaging and recycling resources. And did we mention that these students will also receive discounted canteen food?
We know that making changes and breaking habits can be tough, but we're dedicated to promoting the Green Cams Commitment throughout the school and beyond the classroom. We're #camsandproud to be supporting and promoting this ongoing environmental commitment… and we know that our students and staff are, too.