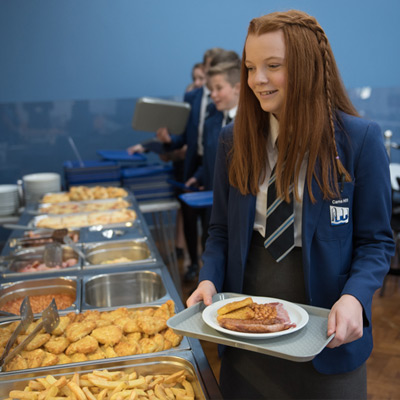 Our kitchens, run by our Catering Manager, Mrs Francis, and her dedicated team, produce a range of delicious food daily; all of our food is freshly prepared on site. Hot dinners and 'Meal Deals', including vegetarian options, can be purchased from the Dining Hall, where pupils can also buy a range of snacks such as panini, pizza, sandwiches, cake and biscuits, or select from the salad bar. Quick snack options are also available to purchase from the Kiosk in the Atrium. The Dining Hall is also open from 8am for breakfast, including croissants, pancakes, bacon sandwiches etc.
Sample Meal Deals
Beef and vegetable pie, creamed potato, peas and carrots
Chicken stir fry with noodles
Chorizo and pepperoni risotto
Chunky Quorn chilli with rice
All-day breakfast
The meal deal currently costs just £2.20 and includes a main course and a dessert. Drinks are sold separately.
From September 2017 meat, potatoes, vegetables, etc will also be able to be purchased separately.
Cashless Catering
Cams Hill School operates a cashless catering system. Each child has an account that can be topped up online or via a machine in school and can pay for items in the Dining Hall and the Kiosk without cash. This means shorter queues and quicker service, as well as giving parents/carers the facility to check their child's account and track their purchases of food. Click here to find details of how to pay online.
This system uses biometrics and a 'digital fingerprint signature'. This is not the same as a visual image of a fingerprint—while pupils' fingerprints are scanned, they are then converted into a mathematical algorithm and the image of the fingerprint is deleted. This means that the scanner at the till points can recognise your child's fingerprint but that there is no way this information can be used for any other type of identification purposes. The information that is stored by the system is only in the form of numbers and it cannot be converted back into an image of a fingerprint. In this way, your child's fingerprint is kept totally secure and cannot be used by other agencies. The information will be deleted when your child leaves Cams Hill School.