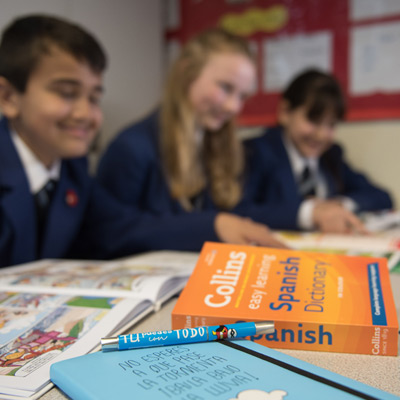 "Every child should have the opportunity to study a foreign language and develop their interest in the culture of other nations. They should have access to high-quality teaching and learning opportunities, making use of native speakers and e-learning."
2019 Presentation for Parents of Château Beaumont trip (.ppt 6MB)
Key Stage 3
In the light of the government's overall strategy to improve standards in schools and commitment to provide a modern foreign language to all primary school children, the MFL department is using constantly revised materials and differentiated resources to meet the requirements of the National Curriculum Programme of Study for MFL throughout Key Stage 3 as well as the MFL framework.
Our aim is to build directly on the greater knowledge of the way language works that pupils are bringing with them from primary school through the literacy strategy.  Pupils can progress through objectives at different speeds and in different sequences but the emphasis is on making the process of language learning transparent and accessible to all.  The objectives cover three years which can be viewed broadly as:
Year 7 – Foundation
Year 8 – Acceleration
Year 9 – Independence
Objectives are grouped in 5 strands:
Words
Sentences
Texts: reading and writing
Listening and speaking
Cultural knowledge and contact
The MFL Department encourages a move away from language learning in a topic based way towards an emphasis on understanding the underlying structures of the language, thus enabling the pupils to become independent learners.  Cams Hill is a fully diversified school in which French and Spanish have equal status.  Pupils entering the school in Year 7 begin either French or Spanish, depending on the tutor group to which they are allocated.  This will be their National Curriculum Language, and pupils will normally be expected to continue with this language into Key Stage 4.
In Year 7, pupils are taught in mixed-ability Tutor Groups throughout the whole year.
In years 7, 8 & 9 pupils receive two one-hour lessons per week of one Modern Foreign language.  In addition we offer a range of extra-curricular activities for Key Stage 3 pupils such as Film Club at lunch, homework support after school and foreign trips and exchanges.
Resources
At Key Stage 3 we currently use Studio (French) and Viva (Spanish) which are broad ability courses for 11-14 year olds.  They provide a clear structure, progression and differentiation.
Pupils are assessed every half-term at the end of each unit so they can demonstrate their understanding and knowledge as well as reflect on areas of improvement to ensure constant progress.  Assessment is based on a series of communicative activities within the four skill areas: listening, speaking, reading and writing.
Key Stage 4
At Key Stage 4, pupils receive five one-hour MFL lessons over two weeks.  Languages are optional at GCSE level.  Key Stage 4 pupils are offered extra-support after school as well as Saturday workshops and revision sessions throughout the year.
For further information about the Key Stage 4 MFL Curriculum please contact Mrs M Ameaux (Head of Languages) or check the exam board website:
https://www.aqa.org.uk/subjects/languages/gcse/french-8658
https://www.aqa.org.uk/subjects/languages/gcse/german-8668
https://www.aqa.org.uk/subjects/languages/gcse/spanish-8698
All pupils are entered for the AQA GCSE Examination.  No more controlled assessments, just final examinations at the end of Year 11:
25% Listening (May/June year 2) (F 30mins + 5mins/H 40mins + 5mins)
25% Reading (May/June year 2) (F 45mins/H 60mins) Questions in English and Target Language as well as translation of short passages
25% Speaking (May/June year 2) (three activities : role play, discussion based on a photo as well as a general conversation) duration :7 to 12 minutes
25% Writing (May/June year 2) (F 60 min/H 75mins) Structured writing tasks as well as open ended ones and translation activities
F = Foundation Tier
H = Higher Tier
Pupils need to be entered in the same tier for all the different units/examinations.
Students need to be entered in the same tier for all the different units/examinations.
Download MFL KS3 Curriculum Overview