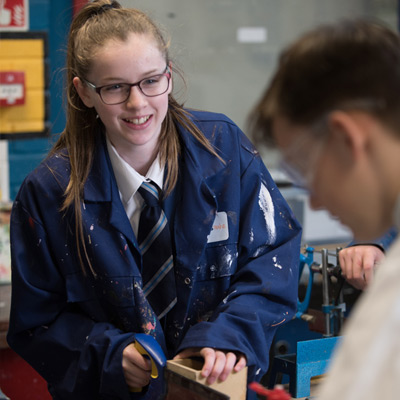 Department Ethos

Design and Technology is a subject that is currently undergoing a facelift. It looks to offer the students a mixture of traditional practical skills coupled with an approach that equips pupils to be able to face the challenges that modern day life and the increase of new technologies throw our way.
Learn more about Design and Technology at Key Stage 3
In KS3 (years 7, 8 & 9) pupils receive four one hour lessons over the two week timetable of Design and Technology. The curriculum encompasses – working with Food, Resistant Materials, Systems and Control and Textiles to provide a valuable experience. The challenges cover in lessons help to develop the skills much prized by employers and educators alike. They include problem solving, teamwork, analysis and making evaluative judgements. It offers an opportunity to design, implement ideas through practical application of skills along with an appreciation of advances in technological world.  Through the range of experiences offered, all pupils will begin to think and work in a way that prepares them for life in the 21st century.
Facilities in the Department are well established and are comprised of 5 design studios which are gradually being converted to multi- use rooms to help facilitate the flexible approach to working with a variety of materials which is needed for the new GCSE courses. We are also fortunate to have ICT facilities in some of the rooms which help pupils to integrated computer aided design (CAD) and manufacture (CAM). We are also located close to the other ICT suites which are regularly used to support our curriculum.  ICT facilities are further enhanced by the use of computerised sewing machines, scanners and a computer-controlled embroidery machine, control equipment, vinyl cutter and an A2 laser cutter.
The aim of the department is to encourage and nurture pupils' enthusiasm to ensure their success and build confidence, using a range of technologies and a variety of materials.  Pupils work through design-based problems and investigative work, reviewing their ideas through an iterative approach to designing and making. We want the pupils to look forward to their Design and Technology lessons because they are challenged but successful; allowed to think for themselves whilst developing creativity and producing quality work.
In Year 7 and 8 pupils currently experience a modular approach to their studies incorporating aspects from all areas of Design and Technology. Areas covered in the modules include Food and Nutrition, Product Design, Systems and Control and Textiles. In Year 7, pupils will also undertake enterprise style activity which will build on the skills they have learnt and offer them, greater independence with the type of outcomes they produce. They will showcase their work in a market place activity. This will build their confidence in designing for others and producing quality desirable items. This will lead them nicely into the Year 8 curriculum.
The Year 8 curriculum continues along the lines of the Year 7 so that pupils have an experience in working with different material areas. The focus of their work is producing quality products that meet the needs and wants of others. We believe that by teaching in material focus area it will provide the pupils with a wealth of skills they can then apply to KS4 courses.
In each of the projects pupils are given guidance on how to achieve their trajectory and regularly use the pupil friendly statements on how maintain high level of progress. Pupils are assessed in each of the projects on three key skills or pieces of work. Feedback is given that will help them secure their target trajectory.
Learn more about Design and Technology at Key Stage 4
This department is in the fortunate position of being able to offer a wide range of options under the umbrella of Technology. We are at an exciting time as there have been significant changes in the curriculum and exams available for this subject. To best suit the needs of our pupils we are aiming to offer as many subjects as possible. From 2017 All GCSEs Technology will be linear Students will sit all exams at the end of the two year course. GCSEs Technology will be graded 9–1 All new GCSEs will be graded 9–1, rather than A*–G. Grade 9 will be the highest and equivalent of an A**.
Currently at Key Stage 4 pupils can choose to study from the following GCSE courses:
Art – Textiles
Art – Graphic Communication.
Hospitality and Catering.
Design and Technology
GCSE technology is taught over 5 lessons a fortnight.
For further information on the Key Stage 3 and 4 Design & Technology curriculum, please contact Mrs J Collins, Head of Design and Technology Department.
Download Design and Technology KS4 Overview