Weekly Newsletter 26 January 2018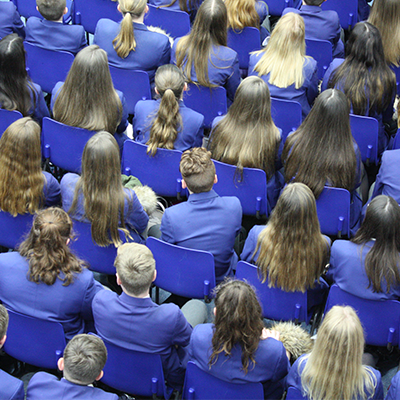 26th January 2018
Weekly Message
On Tuesday, the school suspended its normal timetable to hold its second Enrichment Day of 2017-18. These days are used to explore aspects of personal development learning in depth and Years 7, 8 and 10 spent time looking at charity, mental health, and sex and relationships education. Year 9 were off-timetable for Holocaust Day, an opportunity to learn about the terrible events during the Holocaust and to listen to a talk from Walter, one of the few remaining Holocaust survivors. Year 11 spent the entire day working with the Science Department, along with some helpful input from the Maths Department to look at how Maths is used in Science. Thank you to all of the staff who spent time preparing a range of interesting resources for this day.
During the week, Year 10 Ambassadors, the Head Girl and the Head Boy delivered assemblies on anti-bullying. These were really well-received. Please see the main bulletin for further details.
Regrettably, there have been a small number of incidents involving mobile phones over the past week. This has led to mobile phones being confiscated for three days in line with the school's policy. Can we please remind parents/carers and pupils that mobile phones must be switched off and kept out of sight during the school day. Please see the website for the school's Confiscations Policy.
Finally, we want to make you aware that Ofsted South East region will be hosting a webinar for schools and parents on Wednesday 31st January 2018. Ofsted have identified an increase in cases where on-line access has placed children in danger. Grooming, radicalisation and child sexual exploitation are often perpetrated via the internet and pose a real threat to children of all ages. The webinar also offers guidance to parents about how to help their children stay safe. This webinar will be presented by Hilary Macdonald, Senior Her Majesty's Inspector, Daniel Lambert, Her Majesty's Inspector, and Lorin LeFave, founder of the Breck Foundation, whose son, Breck, was groomed and murdered in 2014. The webinar will be hosted at 19:00. You can register for the webinar via: http://bit.ly/OnlineSafetyWebinar
Please see the attached flyer below for more information.
---
Anti-Bullying Assemblies
This week some of our Year 10 Ambassadors, Head Boy and Head Girl delivered an anti-bullying assembly to all pupils in Years 7 to 10.  They gave a clear message that any form of bullying is wrong and asked all of our pupils to be mindful of their own actions towards others.
The national anti-bullying theme for 2017/2018 is 'All Different, All Equal' and has the following aims:
empower children and young people to celebrate what makes them, and others, unique
help children and young people understand how important it is that every child feels valued and included in school, able to be themselves, without fear of bullying
encourage parents/carers to work with their school and talk to their children about bullying, difference and equality
enable teachers and other children's workforce professionals to celebrate what makes us 'all different, all equal' and celebrate difference and equality. Encouraging them to take individual and collective action to prevent bullying, creating safe environments where children can be themselves.
As you know the effects of bullying can have a massive impact on all individuals, whether that is at school, work, college or socially.  Bullying is usually defined as repeated behaviour which is intended to hurt someone either emotionally or physically.  It is often aimed at certain people because of their race, religion, gender or sexual orientation or any other aspect such as appearance or disability.  Bullying can take many forms including physical assault, teasing, making threats, name calling, cyber bullying.
There are many myths surrounding bullying issues and some of these myths can often trivialise bullying and suggest the bullied individual is making a big deal out of nothing when actually that is not the case.  This can undermine how a person feels if they are being bullied.  Bullying should not be tolerated in any form.  We believe it is important to address bullying so that the message is clear that bullying is unacceptable.
It is hoped that our pupils left their anti-bullying assembly with the knowledge that any form of bullying is unacceptable and who they should contact if they need to.
---
The Frog Prince – Year 7 Reviews
On Thursday the 18th of January, year 7 were granted with an awesome treat: to watch a magical performance of the Frog Prince. In the performance, three extremely talented actors (Dom Phillips, Clive Holland and Anna Harriot) spun a tale that taught us the moral 'never judge a book by its cover'.
The story was about a princess who needed to learn to care about people for who they are; she was taught this by a frog. The frog had once been a prince; however he was cursed by an evil witch. This curse could only be broken by love. To try and break the curse, the frog stayed in the princess' castle for three days, in which time the princess grew to love this slimy looking creature. This original script told this story by using some well known fairytales such as Sleeping Beauty and Rapunzel, so therefore this unfamiliar story was relatable and easy to follow.
To add to the enjoyment, the actors used puppets to portray the characters of Rapunzel and the frog. In my opinion the puppetry skills were amazing, especially when they made the frog swim during one of the songs. I think the puppets made the show quite unique, because they added a new dimension to the story as they became human-like through their actions.
Overall, this performance was a brilliant show of singing, dancing and acting skills that encouraged us to be friends with everyone and not just people who are 'good looking'. I would definitely recommend it to other KS2 and KS3 children.
By Catrin Gibbard, 7C
The Frog Prince was good I would recommend this to 5-7 years of age. The best part of the play was when Mr Murton went up on stage and acted as the magic mirror he was really funny. During the play it did get a little bit boring but then it got better. The doll that played Rapunzel freaked out a lot of people so I think they should replace it. I also liked when one of the actors shot the confetti canon and the confetti landed on me.
By Molly Dyson, 7I
The frog prince is a fun exciting performance that captured the essences of a perfect world class performance. The funny jokes make you laugh till you couldn't breathe and the catchy songs kept you humming along till the last note. Throughout the play we met many characters like Polly, Henry and the thirsty frog! We were told funny stories new and old (the honest prince, Rapunzel and more) and had are spirits lifted sky high.
Personally I found the best part was when Mr Murton himself showed us his amazing acting skills as he was casted as the magical mirror. Even though he was reluctant he really put on a good show! My favourite story was the first frog as it had funny dance moves and also educated us on the world oceans (always a bonus).
At the end there was a huge roar of applause as all the story's came to an end and everyone lived happily ever after…But not before we all stood up and danced to a fabulous song.
by Abigail Rawlings, 7C
Key Dates
February 2019
Monday 18
Spring Half Term
Year 11: Icelandic Wonders: Departs 16 February returning 19 February 2019
Year 11: Music Technology Recording Workshop invited pupils
Tuesday 19
Spring Half Term
Year 11 : GCSE Music Composition Workshop invited pupils
Wednesday 20
Spring Half Term
Year 11: GCSE Art, Photography and Graphics Workshop (Mrs Farmer's and Mrs Oswald-Cutler's Group)
Year 11: GCSE Additional Physics Revision Session
Thursday 21
Spring Half Term
Year 11: GCSE MfL Revision Session for Mock Speaking Exams
Friday 22
Spring Half Term
Monday 25
Kindness Week
Tuesday 26
Wednesday 27
Acting Academy
Thursday 28
Year 11: "How to revise" English and Maths workshops
Year 10: GCSE Dance Trip 'Epilogues Within Her Eyes' Newbury Corn Exchange
Year 10 & 11: GCSE Drama trip to Macbeth, Mayflower Theatre Southampton
Friday 29
#hotchocfriwithHT
---
Puzzle Corner
---
Sports News
RESULTS
There are no results for this week
---
Latest Menu
From 15 January MEAL DEALS have the option of flavoured water.
From 12 January baguettes will be reduced to 55p (was 60p), but if butter is required the cost will be increased to 65p.
Free school meals must only use the dining hall at lunch time, and have either a MEAL DEAL or MAIN MEAL.
---
Lost Property
If items are not found on the day they are lost, please keep checking with the Medical Room as they can often take a couple of weeks to reach us.
UNCLAIMED LOST PROPERTY WILL BE KEPT FOR 2 WEEKS THEN DISPOSED OF
Monday 09 July 2018 - Friday 13 July 2018
Padded Beige hoodie uk 18-20 Ayacucho
Black Mountain Warehouse Coat size M
Calculator
Hairbrushes
White NB trainers size 7.5
Black/white adidas football boots size 11
Black plimsoles size 5
Nike trainers Blue speckled size 5
White/Green Nike football boots size 7
Various keys, glasses, jewellery
White Headphones
PE kit in White bag
White Cedar Wood State Hoodie size S
Grey Hoodie "I'm so freaking cold" size S
Light Grey Next hoodie size 13 years
Green Next Sun cap 7-10 years
Various Water bottles
Grey Hype jumper size 11-12 years
PE Kit in Navy Bag (Bottoms size 20, Top size L)
Black Clarks shoes size 9G
Black Capsule trainers size 8
Black laced plimsoles size 4
1 Black Slazenger plimsole size 3
Fox Head purse with Yellow wrist band
A polite reminder to Parents/Carers please ensure that all pupils property is clearly named with the pupils name and tutor group.
Various keys, watches and pairs of spectacles are kept in the Medical Room when handed into lost property. When named items are handed in to the Medical Room Form Tutors are notified by e-mail or printed slips, which are sent in school registers, to ask pupils to come and collect the items.
---
School Trips Update
You may pay online for the majority of trips at https://www.scopay.com/camshill-hants
Year 11 Geography GCSE Trip to Iceland – February 2018
Medical forms now overdue (Monday 22 January). Passports and EHICs due by Thursday 1 February.
Year 9 History Trip to the Battlefields – March 2018
All payments now overdue (due Thursday 21 December 2017)
| Battlefields 2018 | Payment by | Amount | Total |
| --- | --- | --- | --- |
| Non-refundable deposit | 29 September 2017 | £70.00 | £70.00 |
| First instalment | 31 October 2017 | £50.00 | £120.00 |
| Second instalment | 30 November 2017 | £50.00 | £170.00 |
| Third and final instalment | 21 December 2017 | £30.00 | £200.00 |
Year 10 History GCSE Trip to Berlin – July 2018
First instalment of £50.00 due by Wednesday 31 January
| History Trip to Berlin 2018 | Payment By | Amount | Total |
| --- | --- | --- | --- |
| First non-refundable deposit | Monday 27 November 2017 | £150.00 | £150.00 |
| Second non-refundable deposit | Friday 15 December 2017 | £100.00 | £250.00 |
| First instalment | Wednesday 31 January 2018 | £50.00 | £300.00 |
| Second instalment | Wednesday 28 February 2018 | £100.00 | £400.00 |
| Third instalment | Thursday 29 March 2018 | £100.00 | £500.00 |
| Fourth and final instalment | Monday 30 April 2018 | £100.00 | £600.00 |
Water Sports Trip to the Ardeche – July/August 2018
Fifth instalment of £55.00 due by Wednesday 31 January
| Ardeche 2018 | Payment by | Amount | Total |
| --- | --- | --- | --- |
| First non-refundable deposit | 24 May 2017 | £100.00 | £100.00 |
| Second non-refundable deposit | 30 June 2017 | £100.00 | £200.00 |
| First instalment | 21 July 2017 | £60.00 | £260.00 |
| Second instalment | 29 September 2017 | £60.00 | £320.00 |
| Third instalment | 31 October 2017 | £60.00 | £380.00 |
| Fourth instalment | 30 November 2017 | £60.00 | £440.00 |
| Fifth instalment | 31 January 2018 | £55.00 | £495.00 |
| Sixth instalment | 28 February 2018 | £55.00 | £550.00 |
| Seventh instalment | 29 March 2018 | £55.00 | £605.00 |
| Eighth and final instalment | 30 April 2018 | £55.00 | £660.00 |
Ski Trip 2019 (Years 7-9) – April 2019
First instalment of £95.00 due by Wednesday 28 February
| Ski Trip 2019 | Payment by | Amount | Total |
| --- | --- | --- | --- |
| First non-refundable deposit | 20 October 2017 | £100.00 | £100.00 |
| Second non-refundable deposit | 24 November 2017 | £100.00 | £200.00 |
| First instalment | 28 February 2018 | £95.00 | £295.00 |
| Second instalment | 29 March 2018 | £75.00 | £370.00 |
| Third instalment | 30 April 2018 | £75.00 | £445.00 |
| Fourth instalment | 25 May 2018 | £75.00 | £520.00 |
| Fifth instalment | 29 June 2018 | £75.00 | £595.00 |
| Sixth instalment | 28 September 2018 | £75.00 | £670.00 |
| Seventh instalment | 31 October 2018 | £75.00 | £745.00 |
| Eighth instalment | 30 November 2018 | £75.00 | £820.00 |
| Ninth and final instalment | 14 December 2018 | £65.00 | £885.00 |
---
Miscellaneous News Items
Disclaimer: Cams Hill School is not recommending the following services, simply providing information that may be of interest. We cannot vouch for safeguarding, insurance or health and safety aspects of these companies so please access their websites for further information. 
Fareham College & CEMAST Open Events
Charity Fun Run
Barton Peveril Events