Weekly Message 53 – 13 December 2019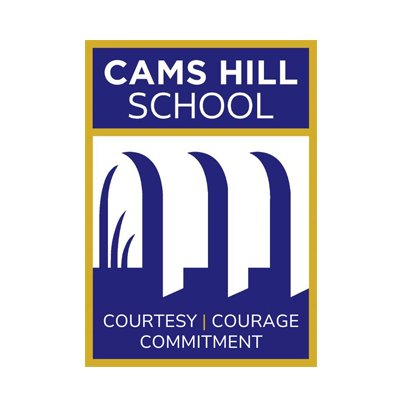 13th December 2019
Weekly Message – Issue 53
Credit Averages for this week
Year 7              6.1
Year 8              6.8
Year 9              6.1
Year 10            5.3
Year 11            11.4
Wow what a week! A mini-election, four House Assemblies, Year 11 Parents' Evening, two Christmas Concerts, Christmas Jumper Day and a Christmas Lunch – it really has been a busy one!
Next week takes us to the end of term. During the week, pupils in all Year groups will attend a Celebration Assembly with their Head of Year and Tutors to congratulate and celebrate the pupil's achievement across the school.
Year 8 pupils have been incredibly busy raising funds to support a Christmas Party they will be hosting on Monday afternoon for our local Senior Citizens. Our guests, many of whom are residents in local Care Homes, will enjoy a festive high tea, Christmas music performed by our pupils, a singalong and conversation with Year 8 pupils and staff.
---
Last day and non-uniform
School closes to pupils for the Christmas Break at 1230 on 20 December 2019.
Pupils are invited to wear non-school uniform on this day, and rather than donating a £1, we are asking for a contribution for Gosport and Fareham (Basics) Food bank. Pupils can bring in their contribution any time between now and 20 December.
If you would like information on the types of donations the food bank is seeking, please see their website at http://www.friendsofthehomeless.org.uk/
---
Mini General Election Results
On Monday we held our first mini-election where pupils could vote for their party of choice. Pupils voted confidentially in wards using a ballot paper. Please see the results below.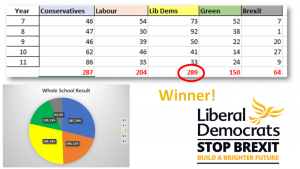 ---
Christmas Concert
Every year the Christmas concert never fails to impress. The talent that exists amongst so many of our pupils is impressive. With singers, instrumentalists, staff and pupils all performing together it was a truly beautiful evening of musical entertainment.
Music is an important and valued part of school life here at Cams Hill School. We have many pupils across all year groups who actively participate in the extra-curricular provision and we constantly seek opportunities for pupils to perform to an audience. New members to the clubs on offer are always welcome! Do keep an eye on the calendar for upcoming events for the year ahead.
---
Christmas Lunch and Christmas Jumper Day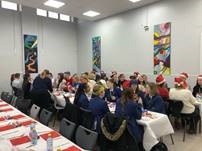 It was beginning to feel a little more festive at Cams Hill School this week, especially with our Christmas Jumper Day and Christmas Dinner for staff and pupils.
It was lovely to see over 300 pupils from all year groups participate in an eclectic range of seasonal offerings while eating delicious food prepared and served by our in-house catering team! Some outfits were evidently more 'tasteful' than others, as demonstrated by Mr Hudson and Miss Noble.
Our sincere thanks go to the catering team and it is also important to acknowledge the pupil helpers who worked so hard serving, clearing and re-laying tables for all to enjoy the experience.
---
Acting Academy
Applications are now invited from pupils in Years 7 – 9 for Spring Term membership of Cams Hill Acting Academy. Places are limited so speedy responses are required.
Existing members only may pay online – please see application form for details or contact Mr Murton for more information via office@camshill.com.
The Headteacher's blog contains more informal reflections and is available here:
https://camsheadteacher.wordpress.com/
---
Key Dates
December 2019
Monday 16
Year 7&8: Mathematics In-Class Assessments (Calculator Test)
Tuesday 17
Year 7&8: Mathematics In-Class Assessments (Calculator Test)
Wednesday 18
Year 7&8: Mathematics In-Class Assessments (Calculator Test)
Thursday 19
Year 7&8: Mathematics In-Class Assessments (Calculator Test)
Friday 20
Year 7&8: Mathematics In-Class Assessments (Calculator Test)
Last day of Autumn Term:School finishes at 1230 - Non uniform Day
#HotchocFri
---