Weekly Message 30 November 2018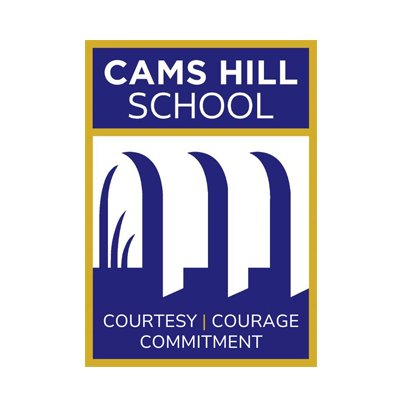 30th November 2018
Weekly Message – Issue 12
Cams Hill School Facebook
The weekly message is designed to celebrate the week that has passed as well as offer key information that may be useful when looking ahead. To offer an additional platform for this, Cams Hill are excited to launch a new Facebook page (Cams Hill School) where you can see the fantastic achievements of our pupils. We are proud to share our stories with parents and carers, and hope you'll enjoy seeing the activities, initiatives and success of the Cams Hill community.
So what has happened this week…
Thank you to those of you who were able to join us on Tuesday evening for a celebration of our whole school Suffragette/WW1 Remembrance Project.
The presentation and exhibition were a huge success; visitors were able to see the work produced by pupils in different year groups and subjects, where each had a different focus. Year 7 singers were singing songs from WW1 and Mary Poppins and our Drama GCSE pupils produced a piece around WW1 and soldiers who lost their lives. Catering students researched rationing and produced canapes for the evening. Staff have also been involved as well as Year 4 and 6 who joined us from Primary School to read the poetry they had written around poppies and Remembrance Day.
As we head towards the festive season….
The rehearsals for the Christmas Concert taking place on 12 and 13 December 2018 are now well underway with the two evenings promising to be filled with fun and entertainment with many of our pupils taking part. Please refer to the email sent to all parents on 29 November detailing how to purchase your tickets which are priced at £3.00.
By means of a taster, along with other members of the local community, a group of our pupils are wrapping up to perform 'Let it snow' at Portchester Christmas Light Switch On taking place in the Portchester Precinct.
Don't forget: school closes to pupils at 1230 on 21 December 2018 for the Christmas and New Year break.
Donating December
We have circulated two letters this week sharing information about how as a school community we would like to support two local causes – Wave 105 Mission Christmas and Fareham Food Bank. Be it a gift for a child living in poverty or a tin of food for the homeless/those in crisis – all donations will be very much appreciated. We are also inviting pupils to come to school on 7 December in a Christmas jumper and/or odd socks for the day, seeking a minimum donation of £1. Monies raised will go to support the work of Solent Mind and Motiv8 and Mental Health #itsoktobedifferent.
Festive Card Competition in Design and Technology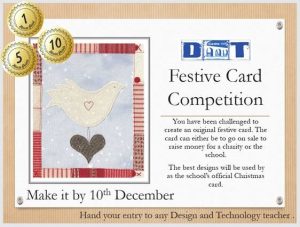 Pupils have been challenged to create an original festive card. The best designs will be used as the school's official Christmas card.
Deadline for all entries is 10 December to be handed to any Design and Technology teacher with name, tutor group and House.
Crohn's and Colitis Awareness Week 1 – 7 December
We have members of our school community who have Crohn's and Colitis; debilitating diseases of the gut that affect every part of the body with no known cure.
One of our pupils has asked us to help raise awareness about these diseases ahead of the Crohn's and Colitis Awareness Week. For more information you can visit https://www.crohnsandcolitis.org.uk/get-involved/crohns-and-colitis-awareness-week
In sporting news
Thirty one pupils headed to St Swithun's School for the annual Hampshire Schools Athletic Associations Cross Country Championships for Years 7, 8 and 9. We had a boys' and girls' team from each year group participating in the soggy affair atop the Winchester hill playing fields.
Pupils ran the muddy course in battering rain showing incredible resilience in the fast races.
Results to follow, if the organisers can read the very wet envelopes collected at the end by the teachers!
Key Dates
June 2019
Monday 17
Year 11: GCSE German Paper 4 (AM 1h/1h 15m)
Year 11: GCSE Certificate in Further Mathematics (calculator) (PM 2h)
Year 8 & 9: Design and Technology Upcycling Competition
Tuesday 18
Year 11: GCSE Additional Mathematics (AM 2h)
Year 11: GCSE Hospitality and Catering Spec A - Unit 1 (on screen) (AM 1h 45m)
Year 7: Parents Evening
Wednesday 19
Year 10 Mock Exam: Statistics Paper 1 10C
Year 10 Mock Exam: PE Paper 2 10A
Year 10 Mock Exam: Drama 10A
Year 10 Mock Exam: Catering 10A
Year 10 Mock Exam: Combined Science Biology Paper 1 (am)
Year 10 Mock Exam: Biology Paper 1
Year 7: Gosport and Fareham Track and Field Athletics Championships Mountbatten Centre Portsmouth
Thursday 20
Year 8: Design and Technology Upcycling Competition Entries DEADLINE
Year 10 Mock Exam: Maths Paper 1 (non-calculator)
Year 10 Mock Exam: Business Paper 1
Friday 21
Year 10 Mock Exam: Chemistry Paper 1
Year 10 Mock Exam: Combined Science Chemistry Paper 1
Year 10 Mock Exam: Geography Paper 1
TBC Year 9: Stem Event
#hotchocfriwithHT
PE Results
Year 8 Girls Basketball won against Fareham Academy 6-8
Year 9 Girls Basketball won against Crofton 6-40
Year 11 Girls Basketball won against Bridgemary 33-4
Year 8 Boys Basketball drew against Bridgemary 10-10
---
Puzzle Corner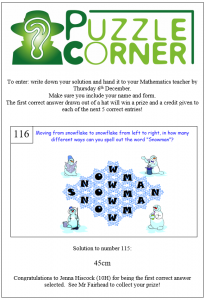 ---
Menu
Menu for week beginning 26.11.18