Weekly Message 204 – 10 November 2023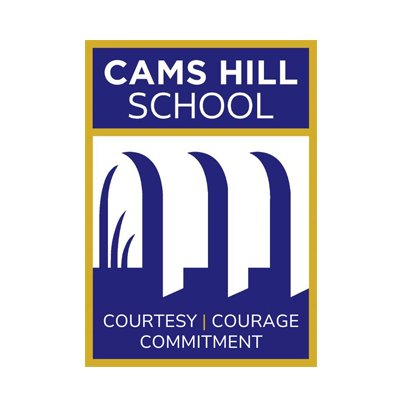 10th November 2023
House Points Averages per Pupil for This Week
Year 7              4.97 points
Year 8              3.79 points
Year 9              4.55 points
Year 10            2.85 points
Year 11            0.76 points (in class assessments this week)
We remind pupils, parents and carers that the school is closed to all pupils on Friday 17 November 2023 as it is an INSET Day. Peripatetic music lessons will be available to pupils that have a lesson on this day.  Pupils should sign in and out at Reception.
We also look forward to meeting parents/carers of Year 8 and Year 9 pupils at the Tutor Evening taking place online between 1500 and 1800 on Tuesday 14 November 2023. To make an appointment with your child's tutor, please refer to our letter dated 7 November 2023.
---
Anti-Bullying Week
Don't forget, next week we have invited pupils to wear odd socks from Monday 13 November to Thursday 16 November* in support of the Anti-Bullying Alliance. This marks the beginning of the annual country wide Anti-Bullying Week and encourages pupils to embrace who they are and their unique, individual selves in a celebration of acceptance. Throughout the week pupils will be asked to explore the theme of #MakeANoise through a variety of pastoral activities both in tutor times and the wider Cams Hill community.
*Please note that Monday 13 November to Wednesday 15 November are not non-uniform days and normal school uniform must be worn.
---
Children in Need
Instigated by our Year 8 pupils, there is a separate charity event for Children in Need on Thursday 16 November.  Pupils who wish to take part may wear non-uniform on this day only for a voluntary contribution of £1.00 as referred to in our letter dated 9 November 2023.
---
Remembrance Day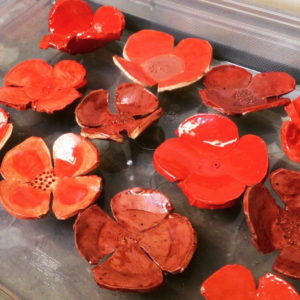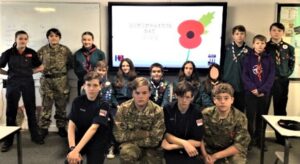 On Friday 10 November, Cams Hill school collectively commemorated Remembrance Day. Pupils listened to a recital of 'For the Fallen', the last post and observed a 2-minute silence which concluded with the Reveille. Pupils who are in the cadets/scouts/guides were invited to wear their uniforms to school for the day. Thank you to the Art Department for organising a beautiful display of poppies.
They shall grow not old, as we that are left grow old:
Age shall not weary them, nor the years condemn.
At the going down of the sun and in the morning
We will remember them.
---
Year 9 Shoebox Appeal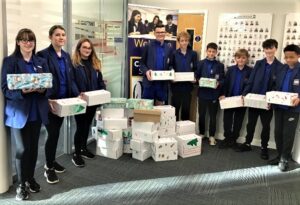 Year 9 have been busy putting together shoeboxes for this year's Rotary Shoebox Appeal. A massive thank you to all pupils who bought and donated items. A selfless act for a very worthy cause. These boxes will be going to disadvantaged and displaced children all over Europe.
---
Science Revision Guides
These are now available to purchase through the school at approximately half the price they are online.
To order please go onto Scopay and pay either £12 for a coordinated revision guide or if the pupil is in a triple science group, £18 for three separate revision guides. The pupil then takes their receipt to the Science Prep Room near Sc3/Sc6 where they will be given their revision guide.
The revision guides have all the key content needed for the Science GCSEs.
---
Year 7 Cross Country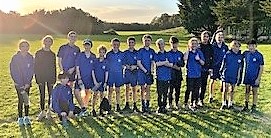 Nine schools entered the competition with approximately sixty participants in both the boys' and girls' races. The school which had the highest top four finishers would then be scored and results finalised. Both our boys' and girls' teams finished 2nd overall which is an incredible achievement.
We are just waiting to find out how many pupils qualified to represent the district in the county finals.  Congratulations to all involved.
---
Assemblies on Post-16 Options
This week our assemblies focussed on post-16 options.
Year 7 was given an assembly by Mrs Vadis, our Careers Co-ordinator. She talked about what is important in secondary school and what pupils can do over the next five years to help develop their skills and knowledge to have a successful future.
Year 8 listened to representatives from Portsmouth College talk about A-Level and Vocational options post-16.
The Year 11 assembly was hosted by Barton Peveril Principal Rob Temple who spoke about the college, its courses, entry requirements, facilities, extra-curricular programme, and progression.
---
For Years 9 to 11: Southampton Education Forum Parents' and Carers' Higher Education Information Event – Tuesday 28 November 1700 to 1915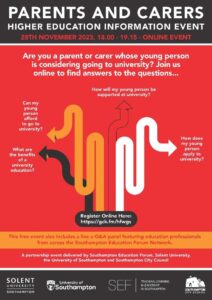 The Southampton Education Forum (SEF) is partnering with Solent University, the University of Southampton, and Southampton City Council to host a free online event for parents and carers of pupils Year 9 and upwards who are considering going to university.
The event will provide parents and carers with information on the benefits of a university education, the application process, financial support options, the student support services.  There will also be a live Q&A panel with education professionals from across the SEF Network. To register, please visit https://gck.fm/hfwgs
---
New Victory Logo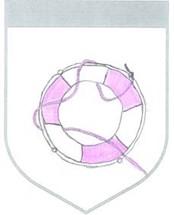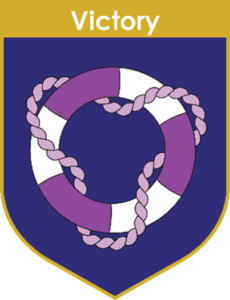 We are pleased to share with you, the logo for our new Victory House, designed by A Shrimpton.  There will soon be a new House Board in the Events Hall and a new flag for Sports Day.
---
Charity Update – Ickle Pickles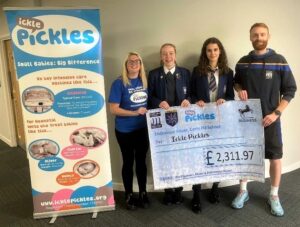 Endeavour House raised £2,311.97 for their House charity, Ickle Pickles.  The charity raises money for equipment for neonatal units.
---
RS House Challenge
November is Islamophobia Awareness Month, a national campaign to raise awareness of how prejudice against Islam and Muslims can impact individuals and society.
As part of this, the RS Department is running a House Challenge inviting pupils to research inspirational Muslims in society and share their story in a poster or PowerPoint presentation. One example shared in tutor groups is that of Nadia Nadim, who fled the Taliban in Afghanistan, learned to play football in a refugee camp and has scored nearly 200 goals playing professional football in Denmark.
Pupils are also reading extracts from a book called Fight Back by A.M Dassu, during 'Register, Read, Respond' time in tutor time, which explores pertinent themes of identity, racism, and resistance.
---
Drama House Challenge Results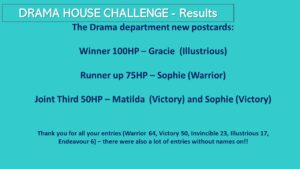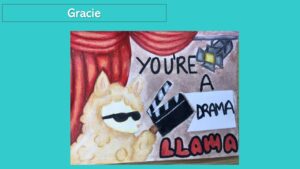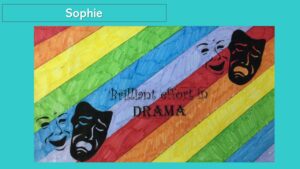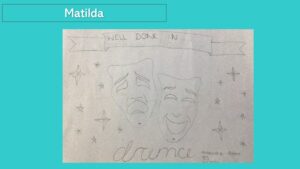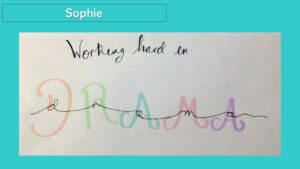 ---
Year 10 Pupil Voice – Key Stage 3 to Key Stage 4 Transition
Valuing pupils' feedback, a questionnaire has been put on the pupil and tutor bulletins for Year 10 seeking feedback around the transition from Key Stage 3 to Key Stage 4.
We would like as many responses as possible, so we ask parents/carers to encourage their child to complete the questionnaire.
---
Menu w/c 6 November 2023
Below is a link to our menu for next week.
Next week's features:
Thursday we will be doing Crunchie milkshake
Due to popular demand we will be serving hot crispy chicken on the 'Wrap & Roll' throughout the week.
---