Weekly Message 9 November 2018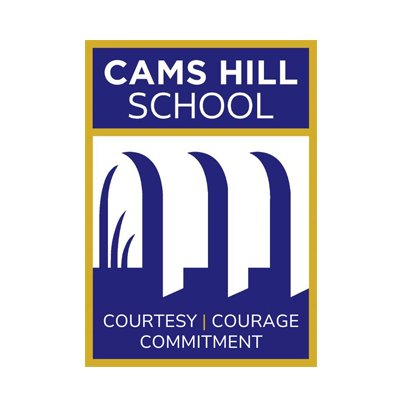 9th November 2018
Weekly Message – Issue 9
Collaboration has been a theme for this week with teachers working together to finalise plans for the whole school Enrichment Day next Tuesday and pupils and teachers working collaboratively (and competitively!) in their houses to raise funds for charity.
As a community we also recognise the mutual benefit of working with people beyond our school community and aim to do this as often as possible; you will read below about the Art workshop at Red Barn Community Primary School which involved Cams Hill School pupils working with Year 3 pupils as part of their WW1 commemoration.
Our remembrance of those who have lost lives in conflict took place at 1100 today. Parents and Carers will be aware that we had planned to gather on the field to observe a 2 minute silence and listen to the last post and a poem delivered by some of our pupils. The onset of rain, just as we gathered, meant that we had to move into classrooms. A poignant moment and an opportunity for us all to reflect nonetheless.
Here are some highlights of our week.
SmileTrain
On Monday lunchtime, staff and pupils joined together to take part in the 2p Trail, a Kindness competition to raise money for each House charity, as well as SmileTrain, which helps children in need of cleft palate surgery. There was a real buzz in the air as the houses competed to create the longest line of 2p's, collected by each tutor group. It was neck and neck at one point with Warrior House looking like they might have bagged the top spot; however, after a flurry of activity, Invincible House led by Mr Barnard won the day, with an impressively long trail of 2p's far outstripping their nearest rivals. Well done to everyone who donated and took part. Also a big thank you to the finance team who counted a lot of 2p's in order to give us a final total of monies raised! 14135 coins in total!
Getting creative at Red Barn Community Primary School
A group of Year 9 pupils along with two Art teachers headed to Red Barn Community Primary School this morning to deliver a clay workshop and work with Year 3 pupils. With the WW1 commemoration as the theme, pupils created clay figurines accompanied by a piece of writing to support their clay work.
Pupils at the primary school were already in their non-uniform 'Armed Forces Day' dress which enabled them to reflect on the roles of women and men during the War. It was an absolute pleasure to work with the younger children in our community and the seven Year 9 pupils that helped deliver the clay workshops were brilliant too!!
A head for numbers….
When the following are evaluated, how many of the answers are odd numbers?
12, 23, 34, 45, 56 – No calculator allowed.
The UKMT Senior Maths Challenge took place on Tuesday – a competition offered to able pupils up to Year 13. We had eight Year 11 pupils and a gifted Year 8 mathematician taking part this year. The pupils were brilliant, particularly given that most sat a lengthy mock English exam in the morning and then took an hour and a half in the afternoon to complete a multiple choice test of 25 questions with negative marking for wrong answers. We very much look forward to seeing how they have done later this term.
Key Dates
June 2019
Monday 17
Year 11: GCSE German Paper 4 (AM 1h/1h 15m)
Year 11: GCSE Certificate in Further Mathematics (calculator) (PM 2h)
Year 8 & 9: Design and Technology Upcycling Competition
Tuesday 18
Year 11: GCSE Additional Mathematics (AM 2h)
Year 11: GCSE Hospitality and Catering Spec A - Unit 1 (on screen) (AM 1h 45m)
Year 7: Parents Evening
Wednesday 19
Year 10 Mock Exam: Statistics Paper 1 10C
Year 10 Mock Exam: PE Paper 2 10A
Year 10 Mock Exam: Drama 10A
Year 10 Mock Exam: Catering 10A
Year 10 Mock Exam: Combined Science Biology Paper 1 (am)
Year 10 Mock Exam: Biology Paper 1
Year 7: Gosport and Fareham Track and Field Athletics Championships Mountbatten Centre Portsmouth
Thursday 20
Year 8: Design and Technology Upcycling Competition Entries DEADLINE
Year 10 Mock Exam: Maths Paper 1 (non-calculator)
Year 10 Mock Exam: Business Paper 1
Friday 21
Year 10 Mock Exam: Chemistry Paper 1
Year 10 Mock Exam: Combined Science Chemistry Paper 1
Year 10 Mock Exam: Geography Paper 1
TBC Year 9: Stem Event
#hotchocfriwithHT
---
Puzzle Corner
---
Menu
Menu for week beginning 12.11.18