Weekly Message 197 – 15 September 2023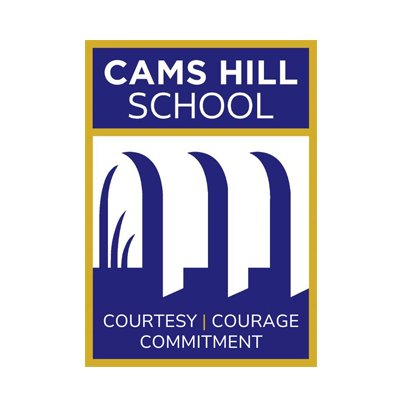 15th September 2023
House Points Averages per Pupil for This Week
Year 7              6.24 points
Year 8              5.29 points
Year 9              3.54 points
Year 10            5.89 points
Year 11            4.95 points
Pupils have now met all their new teachers, completing the second week of their two-week timetable. Many pupils have already participated in the co-curricular activities we have on offer; a number of sporting fixtures have taken place including a notable 5-a-side football tournament for both Year 7 boys and girls with 55 pupils representing Cams Hill School.
Don't forget that as well as keeping up to date via the Weekly Message, you can also find out about what is going on in school each week and join us in celebrating the work and achievements of our fantastic pupils – by following us on:
Facebook- https://www.facebook.com/camshillschool/
Instagram- https://www.instagram.com/cams_hill/
Twitter/X- twitter.com/cams_hill
---
Open Evening – Thursday 28 September 2023
Our doors will open to prospective parents/carers on Thursday 28 September 2023 from 1700 – 2000. The evening offers the opportunity to meet our pupils and staff, explore the school, and discover the opportunities available. It is always an incredibly special evening for our Cams Hill community, and we look forward to welcoming all our visitors.
---
Maximising Learning Time
We would like to thank parents and carers for their ongoing support in ensuring that pupils continue to maintain the high standards set around attendance, behaviour, uniform, and punctuality. It is this 'Behaviour Curriculum' that sets the tone in the classroom and maximises the learning time available for all pupils.
Effective partnerships between school and home make Cams Hill a school to be proud of where each of our pupils thrives, achieves and makes great progress.
---
Synergy
All parents/carers are in receipt of their Synergy login.  If there are any issues or queries with accessing Synergy, please contact synergy@camshill.com and we will endeavour to help as soon as possible.
---
Next Steps Evening (Post-16 Open Evening) – Thursday 21 September 2023
On Thursday 21 September from 1630 to 1900, Year 11 and their parents/carers are invited into school to meet with representatives from local sixth form colleges and apprenticeship providers. They will have prospectuses and information for pupils available to take away and will be able to answer any questions about courses, applying for college and college life. Full details have been sent to parents/carers in a letter dated 8 September 2023.
---
Outdoor Wellbeing Area – Donations for Bug Hotel/Bulbs/Den Spaces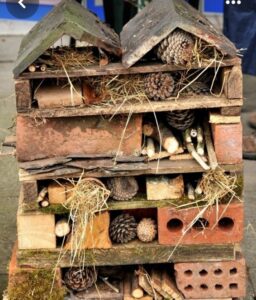 This year, we are creating an outdoor wellbeing area. This space will be used predominantly by pupils who access our Nexus Centre. They will be supported to create an inspiring and calming space as their outdoor learning area.
Research shows outdoor learning  greatly impacts on young children. This can be seen through children having greater confidence, improved social, language and communication skills, higher levels of motivation and concentration, improved physical skills and knowledge and understanding.
This term the pupils are focusing on creating a bug hotel, planting bulbs, and creating den spaces. If you have any materials such as hay, fir cones, dry bamboo sticks, plant bulbs or long thin branches that would build a tall den, we would greatly appreciate your donations. These can be brought to the school's reception if large and bulky, or via your child and taken to the Nexus Centre. Many thanks in anticipation and we look forward to sharing our progress with you.
---
Witterings Trip – Year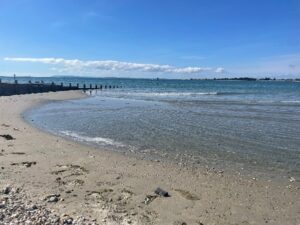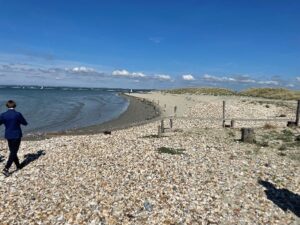 On Wednesday and Thursday our Year 9 pupils visited the West Witterings to practice key fieldwork skills such as evaluating land use and completing a land use map. Pupils were complimented by many local members of the community as they navigated the small area respectfully.
We then focused on physical geography at East Head spit which is internationally important due to its vast salt marsh. Pupils learned how to undertake a bi-polar analysis and showed resilience walking the whole perimeter of the spit in warm conditions. Geography staff also educated pupils about key features of coastal processes and management which help conserve the spit owned by the National Trust. Pupils were a pleasure to take out and work with on fieldwork.
---
Menu w/c 18 September 2023
Below is a link to our menu for next week.
Next week's features:
NEW Chefs Pod dish
Korean Style BBQ Pulled Pork with Cheese Slaw in a Flour Bap (Hog Roast Style)- Served with Onion Rings
World Cuisine Day! We will be featuring a Spanish themed menu – more details to follow
---
Facebook/Instagram and Discord
For Parents – Updated Supervision Features for FB Messenger and Instagram
In June 2023 Meta rolled out some new parental features for FB Messenger and Instagram. As of 30th August these updates are now available globally.
Specific updates for Messenger:
View how much time the child spends on the app.
Updates on their contact list.
Notification if the child reports someone.
View who can message their child.
View who can see their child's stories.
Specific updates for Instagram:
Before being able to message someone who doesn't follow them, people must now send a text only invite to connect (in other words, no more unwanted explicit photos from people you don't follow). No further interaction can take place unless the recipient accepts the invite.
In all these are quite positive steps, there is further information HERE.
For Parents – Discord Family Center
Discord used to be popular with gamers, now it's hugely popular amongst non-gamers too. Historically Discord has been very lax regarding features that are available for parents to help keep their children safe, but this has recently changed, albeit the changes are a minuscule step in the right direction, at least it's something.
Essentially, like many other apps, Discord now has a Family Center. Once set up parents can see:
What servers (chat rooms) their children have joined or participated in.
Everyone they've messaged.
New users they've connected with.
You can read more about these functions and limitations HERE, and THIS page will show parents how to set up Family Center.
---
Setting Boundaries around Gaming
Below is a link to our menu for next week.
setting-boundaries-around-gaming 23 09 15
---