Weekly Message 194 – 14 July 2023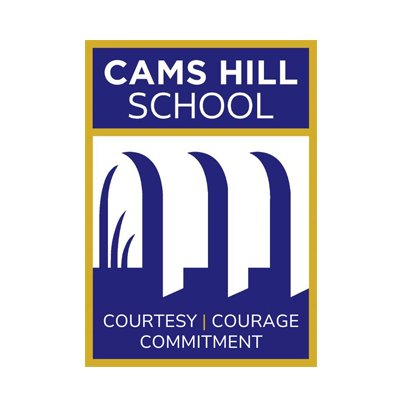 14th July 2023
Rewards Day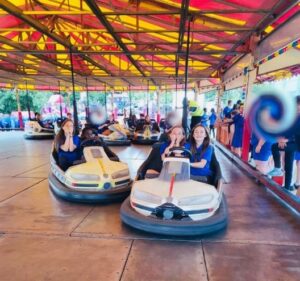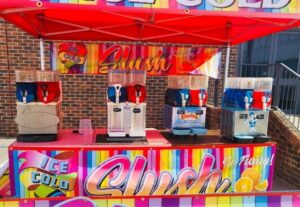 On Wednesday 12 July 2023, we celebrated success and achievement with our House and Rewards Celebration Day.
Pupils in the winning House 'Endeavour', pupils that have made a positive contribution to the school community and those that have worked hard throughout the year were invited to join in with the celebration.
Pupils enjoyed candy floss, popcorn, slushies, BBQ, ice poles, many inflatables and two amazing fairground rides. Some pupils enjoyed a film while others played football on the field. We were so lucky with the weather with the rain missing us, a huge relief! The names of all pupils involved on the day have also been entered into a random generator for the opportunity to win a raffle prize.
We are incredibly proud of how the school rewards pupils for their efforts and we look forward to another year of hard work, positive behaviour and good attitude so that as many pupils as possible are able to enjoy something similar next year.
A huge thank you to the companies that sponsored the event: Matrix-IT, MKG Building services and Fareham's Dog Daycare. Thank you also to Doyle and Palmer Wealth Management Ltd who visited the school to see first-hand the impact their donation has had enjoying some of the day with our pupil and staff community.
---
Berlin Trip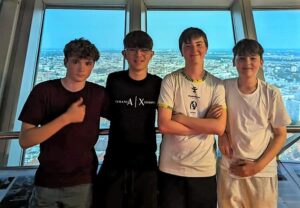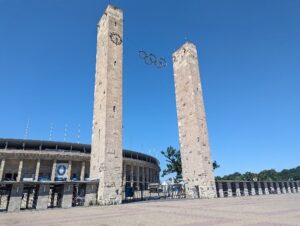 Last weekend, our Year 10 historians were able to visit Berlin. During the trip, they visited a concentration camp, a Stasi prison, famous memorials such as the Reichstag and TV Tower and even got to sample some Currywurst! It was an incredibly poignant trip. The group valued their experience and had a brilliant time together. We look forward to Berlin 2024.
---
Message from the Art Department: Key Stage 3 Art Homework
Pupils in Years 7, 8 and 9 who would like to keep their Art homework projects from this year should collect from the area outside Art 1 by 1500 on Wednesday 19 July. After this time, they will be recycled.
---
Art Group Visit to Fareham College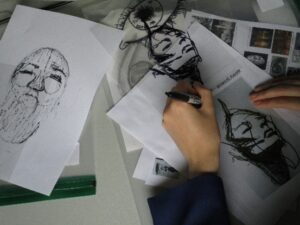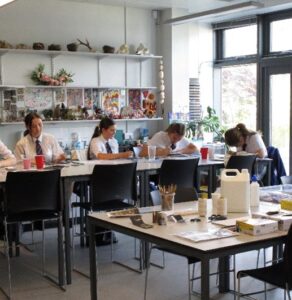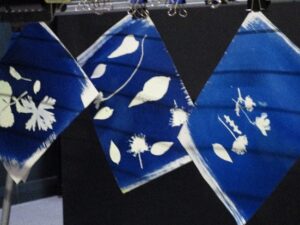 This week Year 10 GCSE Art pupils had the opportunity to visit Fareham College and take part in two taster sessions. They experimented with Bleach drawing and Cyanotypes. Through the process of learning new ideas, they also experienced the art studios at the college and got a flavour for further education. 
Pupils will be able to use their work to develop ideas back in the classroom and in their GCSE portfolios. We thank our pupils for their engagement whilst on the trip.
---
School Production Auditions
The Drama studios were alive with the excited buzz of auditions on Wednesday. Thank you to everyone who came along to audition and to support – what talented pupils we have here at Cams Hill. We look forward to the start of rehearsals in September.
---
One World Day
Today our pupils enjoyed a day away from their curriculum lessons to take part in 'One World Day' which aims to celebrate diversity.
Pupils attended their timetabled lessons but were greeted with a variety of sessions from each subject with a focus on diversity.
From the multi-lingual pupils in MFL to biodiversity in science, and the greatest artists with disabilities in Art – the variety of topics covered was significant.  We hope your child will talk to you about what they have learned today, and that this will spark interesting discussion points over the weekend.
---
Senior Pupil Leadership
Over the last few weeks, we have been looking at the applications for the positions of Head and Deputy Prefects in the Senior Pupil Leadership Team. Applications have come from pupils in Year 9 and 10 who have written a letter to the school, presented their vision to School Council and more recently, interviewed by Mr Hudson (Co-Head of School), Miss Matthews (Co-Head of School), Mrs Seve (Head of Year 9) and Mrs Salt (Head of Year 10).
Next week, pupils and staff will watch the videos made by the candidates and then vote considering carefully who they want to represent them in the school, will they be approachable, will they listen to ideas shared by the pupil voice?  They will listen to the legacy the applicants wish to create in their role.
This is a brilliant opportunity for our pupils, and they have embraced the challenges set as part of the application process.   We are very proud of each of them, and it is very much exciting times ahead.
---
Year 5 Masterclasses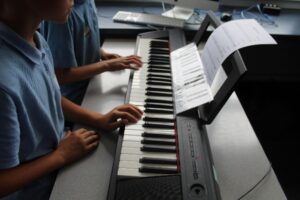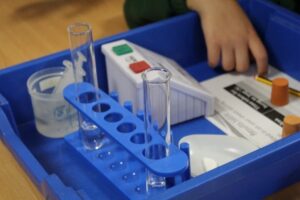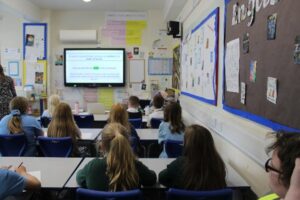 On the afternoon of Tuesday 11 July 2023, we welcomed 230 Year 5 pupils from Harrison, Wicor, Uplands and Redlands Primary Schools.
Pupils enjoyed taking part in two subject masterclasses during the afternoon, this included Spanish, Music, Drama, Art, English, Science, History, Religious Studies, and Maths.
During the afternoon there were opportunities to meet other pupils from other schools and to get a taste of life at secondary school. We look forward to welcoming our Year 5 pupils back for our forthcoming Open Evening in September.
---
Athletics Success
There were some exceptional performances at the Hampshire Athletics on Wednesday. Representing our district against the best in the County we had:
O Knipe placed 2nd in the 1500m
H Kirkham placed 2nd in the Javelin
A Cupid placed 2nd in the 100m
Phenomenal outcomes – well done to all.
---
Internet Matters Gaming Hub
Come rain or shine, over the summer holidays many children and young people will be spending longer on gaming consoles. It is imperative that parents take an active role and understand gaming (it isn't just playing games), the games their children are playing, potential risks and how to mitigate those risks.
Internet Matters have a whole gaming hub, a library of information just for parents covering the areas above and more. You can get to the gaming hub Online Gaming: The Basics | A Parents' Guide – Internet Matters