Weekly Message 179 – 10 March 2023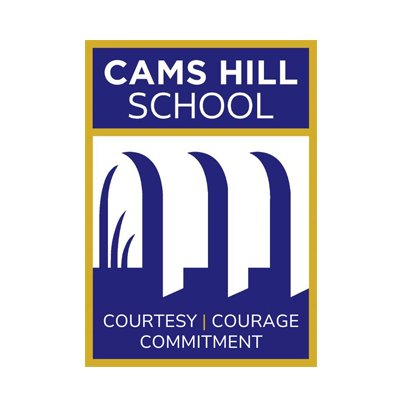 10th March 2023
House Point Averages Per Pupil for This Week
House Points Averages for This Week
Year 7              4.82 points
Year 8              5.58 points
Year 9              4.50 points
Year 10            3.69 points
Despite the wintry weather elsewhere – we have escaped the snow!
It has been another great week at Cams Hill School as we reach the halfway point to this Spring Term. You will see that each week we share the average number of House Points per year group. Please be reassured we have not forgotten to include Year 11 this week; they have not been in usual lessons owing to In-Class Assessments.
We also regularly share House challenges for pupils to engage with to earn valuable points. Next week, we will be holding House Assemblies (Warrior, Endeavour, Illustrious, Invincible) to update members on current challenges and House point totals, all in readiness for the House event at the end of summer term. Each House leader will also provide pupils with an update on money raised for their update on house charity.
We remind parents/carers that all upcoming events and activities are published on the school calendar which can be found on the website
_________________________________________________________________________________________________________________________
Battlefields Trip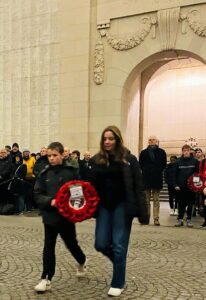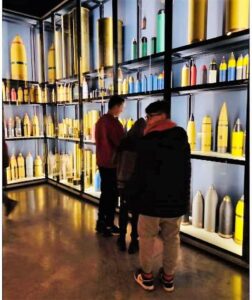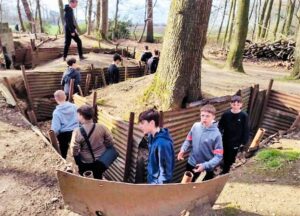 Eighty fantastic Year 9 historians spent a brilliant 48 hours exploring the World War I battlefields of Belgium and Northern France last weekend. They visited Tyne Cot cemetery (the largest commonwealth cemetery in Europe), explored trenches at Sanctuary Woods and Newfoundland, and honoured the dead at Thiepval Memorial to the Missing at the Somme. Some of our pupils laid wreaths as part of the last post ceremony which takes place every night at the Menin Gate in Ypres.
Thank you to the staff who were giving of their free time, everyone who supported the trip in its planning stages and to the pupils for their company and for representing the Cams Hill School community so well. It was a thought-provoking and moving experience for all involved.
__________________________________________________________________________________________________________________________
Hampshire Cross Country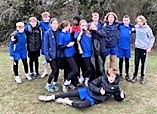 Just a quick update on this week's Hampshire Cross Country. 13 pupils represented the district in very difficult and cold conditions against some of the best Cross-Country runners in the county. All pupils gave their best effort finishing in very respectable places. A special mention must go out to O Knipe who placed 3rd in his age group. This is an outstanding performance which means he has now qualified to represent Hampshire in the Inter Counties competition later this month.
Congratulations to all who took part.
E Frith
L Shawley
S Tata
K Shephard
S Stevens
I Jennings
J Beale
K Marshall Burn
A Cupid
O Knipe
B Walker
J Sims
A Lamont
__________________________________________________________________________________________________________________________
Trip to Southampton Art Gallery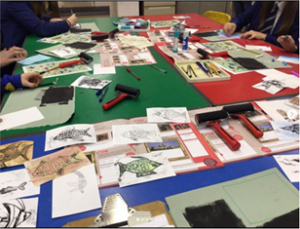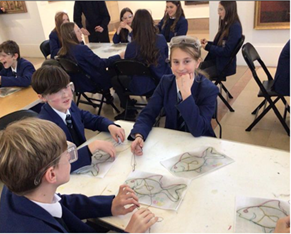 This week Year 8 visited Southampton City Art Gallery to support their current Sea Life project. Pupils took part in two practical art workshops, which included creating wire fish sculptures and had a guided tour of the gallery. They learnt about the pre-Raphaelite artist Sir Edward Burne-Jones and his artwork based on Perseus and Greek mythology, how artists have used everyday junk to create abstract assemblages and how Southampton City Art Gallery was bombed during the second world war shortly after it has first opened in 1939. The pupils were a credit to the school and their artwork will be displayed in their sketchbooks alongside the rest of their Sea Life project.
_________________________________________________________________________________________________________________________
Online Safety – Tik Tok and the Digital World
The links are from the e-safety advisor and are guides and information for parent/carers to support their child/ren to use TIK TOK safely and for parents/carers to support their child/ren in the digital world.
https://www.tiktok.com/safety/en/guardians-guide/
https://www.vodafone.co.uk/newscentre/smart-living/digital-parenting/digital-parenting-pro/
Blackmail/Sextortion
The following advice comes from Fareham Police which has been shared on social media in relation to Blackmail/Sextortion towards young people.
🚨For the attention of all parents/carers 🚨
We have seen an increase in reports of incidents of Blackmail/Sextortion to Police in recent months, especially with young persons as the victims. Unfortunately, young people are being added on apps such as Snapchat and Instagram and accept friend requests from people that they do not know. These profiles look very realistic and are posed to seem as if they are the same age. The suspect will then engage in conversation and send very realistic pictures – then requesting that the victim sends back sexual photographs of themselves. Once the victim has done this, the suspect then reveals that they are not the person shown on the social media profile and demands amounts of money – otherwise they will send the naked photographs to friends/family members.
In many cases the victim sends money believing that this will stop the suspect – it does not. In most cases the suspects are from different countries, and it is very difficult for us to investigate these incidents overseas.
Please have a chat with your teenagers about this – the profiles are very convincing. You should not accept anyone that you do not know on social media. Please also be advised that it is a criminal offence for anybody under the age of 18 to share explicit photographs of themselves – and your child would be committing this offence by sending the photographs of themselves online.
It is very important that your children can come to you about this sort of matter if it happens to them – it can be extremely embarrassing and upsetting for them and they can be reluctant to contact the Police.
ADVICE TO VICTIMS:
Don't panic. We will take your case seriously. We will not make judgements on your behaviour. We will deal with the matter in absolute confidence. Do NOT delete any correspondence. DO NOT pay. DO NOT communicate any further with the offenders. DEACTIVATE your accounts. REPORT online indecent images to the host website/platform.