Weekly Message 152 – 24 June 2022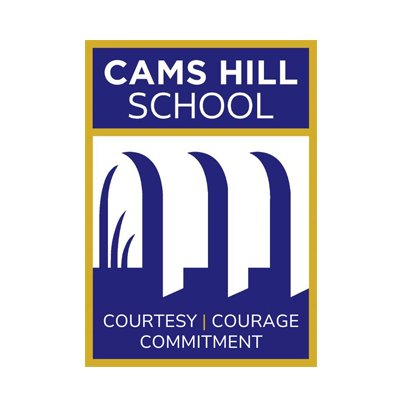 24th June 2022
Credit Averages for This Week
Year 7                  7.04
Year 8                  13.08
Year 9                  11.16
Year 10                3.84
---
Farewell to Year 11
This week Year 11 concluded their examinations and to celebrate pupils and staff gathered on the North Courts for the all-important shirt signing and farewells to mark the last time the year group will be together in school as Year 11 pupils.
It is always a special time to acknowledge the pupils' hard work, their commitment and their contribution these past five years to the Cams Hill School community. We always say that it is "the people that make the place".
It was emotional! As teachers we see very many pupils through our doors, but every single pupil is unique. We take great pride in building a solid working relationship with our pupils as we teach them in our subject areas, to achieve the skills and qualifications they need to progress onto the next chapter of their lives. It is always sad when this time comes to an end.
Our thanks go to our parent and carer community for all their support in ensuring that their children are equipped and ready to learn and able to get the most from what the school is able to offer. We recognise that for parents and carers too, this moment is a significant milestone and we wish you and your children all the very best for the future.
We look forward now to the prom – the final celebration the school organises for the pupils as we conclude our time together; it promises to be a wonderful evening.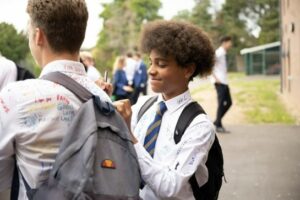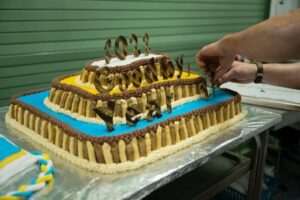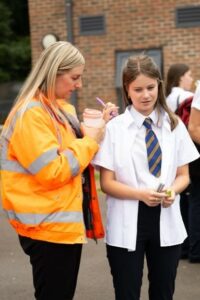 ---
Staff Training
This week the staff have been involved in a number of training activities including the annual TeachMeet.
On Wednesday evening we opened our doors to over 250 teachers from six local secondary schools and colleges to engage in professional dialogue and learning. The event was organised by the Fareham and Gosport Collaboration and involved teachers from Cams Hill School and each of the other settings offering evidence-informed workshops linked to teaching and learning and career development.
The event was a huge success; there is always so much to learn from other colleagues to evolve and develop our classroom practice. Our thanks go to all involved.
---
Auditions for 2023 School Production – Grease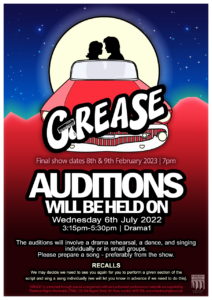 Cams Hill School Drama Department are very excited to announce that our 2023 school production will be 'Grease'. We are so excited to offer this extra-curricular opportunity and cannot wait to get started on creating a fun and enjoyable experience for all involved. We will be holding auditions on Wednesday 6 July 2022 from 1515 to 1715. All pupils wanting to be involved in either performing, backstage crew, lighting technicians or hair and make-up should come along on Wednesday to Drama 1. All information will be sent out to tutors.
---
Don't Face It Alone – ABC Re-Launch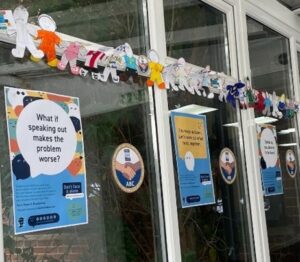 Wednesday 22 June was 'Don't Face It Alone Day' which is a key anti-bullying event. Pupils had a whole school virtual assembly on the importance of community and working with each other to achieve greatness. A paperchain of representations of themselves is proudly on display along the main corridor.
Pupils throughout the school have been invited to express their interest in becoming members of our ABC (Anti-Bullying Collective) and spearhead the initiative moving forward.
---
Big Ideas Trip to the Houses of Parliament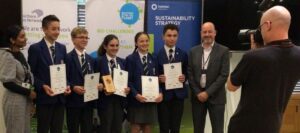 This week a group of our pupils went to the Houses of Parliament as part of the 'Big Ideas' competition. The pupils had come up with a fantastic idea to use kelp to make sustainable, biodegradable and even edible plastic. They called their idea 'Chloroplastics' and finished runners up at the regional finals to earn their attendance at the event in Westminster.
The day began with a presentation from Hilary Benn, MP and then the presentations from the other various teams competing. Then came the time for the awards where our team picked up the Schofield award for "radiating positivity throughout the process".
Overall, the day was a fantastic experience and a lovely reward for all the incredibly hard work our pupils have put in over the course of the year.
---
District Athletics
On Tuesday 21 June we took our Year 7 Athletics squads to the Mountbatten Centre, Portsmouth to represent the school in our annual district competition. For many of our pupils it was their first experience in competitive Athletics.
On what was an exceptionally warm day all pupils performed admirably with some outstanding results. Our girls team placed first and the boys placed third meaning that overall we placed first. As a result of this we have 11 pupils who have been invited to represent Fareham and Gosport in the Hampshire Championships in July. We wish them every success.
---
Hampshire Athletics Track Knock-Out
I am delighted to say that our Year 7 girls' Track Athletics squad have made it through to the County finals. They placed third in the semi-final which gave them enough points to reach the final. This is an incredible achievement in what is a very tough competition open to all schools across Hampshire. The final is being held at the end of June at the Mountbatten Centre.
---
Library Bookmark House Points Challenge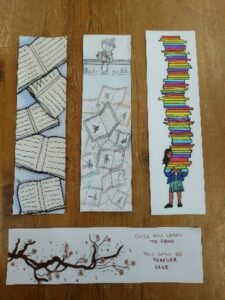 We are so excited to share with you the winning entries from our very successful Library Bookmark House Challenge!  We had a total of 244 entries.  The above designs are being printed for our Transition Welcome Packs and will also be available in the library next term!
Total house points for this challenge (winners, runners up, honourable mentions and entry points!) are:
Invincible- 380
Endeavour-630
Illustrious- 820
Warrior- 1,190
Thank you to the Art Department with help from a lovely Year 10 Graphics class for judging the entries and to everyone who took part.
---
Science House Challenge
The Science Department's latest House Challenge saw Years 7, 8 and 9 pupils create fantastic models representing the scientific concepts that interested them the most.  We had a vast range of entries across all 3 science disciplines from plant cells to Dolly the sheep, the water cycle, tensegrity and the solar system.
After a tough deliberation, M Simojoki from Endeavour house won with a fantastic tensegrity model: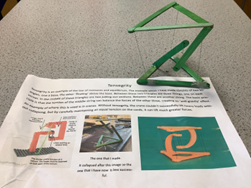 2nd place was T Glithero (Endeavour) with a model of reflection using a laser and mirrors: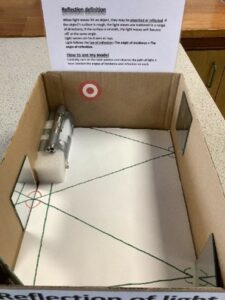 In 3rd place was O Bailey's solar system model for Illustrious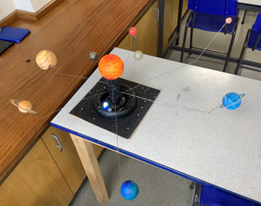 And 4th place went to Endeavour's M Brace for a functioning model of the lungs: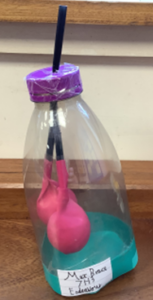 Congratulations to all entrants; the Science Department has thoroughly enjoyed seeing such a fantastic showcase of creativity and critical thinking.
---
Pride Month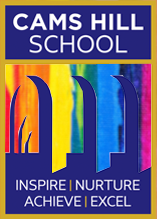 The results from last week's cake bake sale are in …The cake sale raised £106.95. *The Alphabet Association team are so proud of our pupils and their support for the sale.
To continue celebrating Pride Month here at Cams Hill School, we held a whole school tutor group quiz. The winning pupils will be receiving a small prize.
* The Alphabet Association is the school's LGBTQ club for pupils.
---
Puzzle of the Week
Thanks for your contributions this year to Puzzle of the Week.  The final table for the adults seems a little harsh! We've missed out on pole position due to having fewer wrong answers?!
Overall Adult School Leaderboard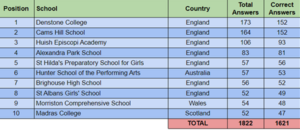 Still, much fun was had. I hope I can count on your involvement next year and hopefully we can encourage more pupils to participate.  We finished 19th overall in the world with a total of 190 correct answers – I'll leave you to do the Maths!  We've got a long way to go if we are going to challenge Mearns Castle High!

.