Weekly Message 151 – 17 June 2022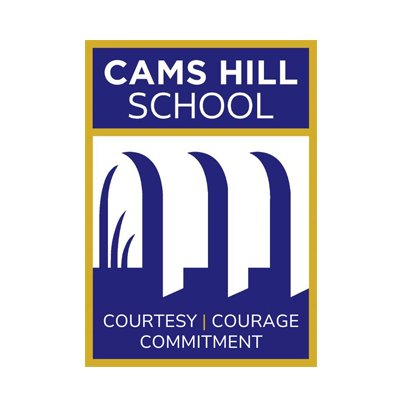 17th June 2022
Credit Averages for This Week
Year 7                  9.23
Year 8                  19.69
Year 9                  7.20
Year 10                5.56
Year 11 have very nearly completed their exams, with a few more to take place next week. They continue to rise to the challenge with maturity and a desire to do well, serving as great role models to the younger pupils as they watch Year 11 conclude their time at Cams Hill School.
The last whole year group exam (Physics) takes place on Thursday 23 June 2022 after which we will celebrate with a social gathering on the hard courts to include shirt signing and photographs. Pupils will need to bring their own pens (Sharpie pens are the best!); it is essential that pupils have a spare shirt at home should they still have an exam.
Final arrangements are in hand for the Year 11 prom with pupils and staff very much looking forward to this event. We thank staff for giving their time and effort to what promises to be a truly fabulous evening for the Cams Hill community.  The yearbook also looks fantastic, and these will be available for collection on results day on 25 August 2022.
class2022@camshill.com remains active should pupils, parents and carers have any specific questions.
---
Inset Day – Friday 24 June 2022
Please note that next Friday, 24 June 2022, is an INSET Day.  The school will be closed to pupils on this day other than for those sitting exams.
---
House Scores

Here are the latest house point scores. What you may not know … Illustrious have been in front every year for the past 3 years at this time of the year.
At this point, the biggest 'game changer' is Sports Day and there will be an assembly shortly to explain the Sports Day process and how house points can be earned. The column labelled charity details the extra funds raised for the house charity and these also count towards the house points.
Well done to all those pupils who have been contributing towards house challenges. There was an amazing response to the recent library bookmark competition, and we will be sending out information about the winners very soon.
Good luck to all pupils as we move towards the end of term, the Rewards Day for house winners is shaping up to be something spectacular. 😊
On a separate note, should anyone have any unwanted gifts that you would be able to donate for the Rewards Day raffle, we would be hugely grateful. Please bring them into Reception if you can.
---
PE Enrichment Trip to Condover Hall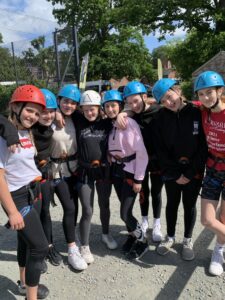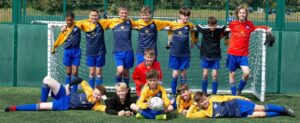 On Friday 10 June, the PE team and coach 'Rodriguez' took 80 pupils to Condover in Shropshire. Pupils participated in netball and football tournaments across the weekend. When not involved in tournaments, pupils were allowed to partake in high ropes, laser quest challenges, archery and many more activities. Our pupils were fantastic, and it was a pleasure to spend the weekend with them.
We are so proud of all that took part and a massive thank you to the staff who gave up their weekend to give our pupils this wonderful opportunity.
In football, the Year 8 team won the Vase Tournament, and the Year 10 boys came second overall which was an amazing achievement with only 5 players, and all played all the time!
In netball, the Year 10 team came 4th overall.  The Year 7 pupils came 6th (they were playing mainly Year 8 teams!). The Year 8 team won their tournament and won all 10 games! Well done to all pupils involved in all events.
---
Year 8 Gosport and Fareham Athletics Success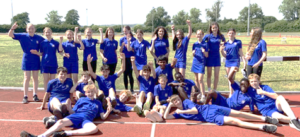 The Year 8 Athletics Team competed at Mountbatten in the Gosport and Fareham Athletics Championships in the glorious sunshine on Wednesday afternoon.
The Girls placed 1st with 78 points, the second place team were a long way behind with 57!
The boys team placed 1st with 92 points, with second place behind with 67.
A selection of individuals have been selected to represent Gosport and Fareham District in the Hampshire Athletics Championships. Congratulations to all individuals involved.
---
Year 7 Camp
Last Friday we had our first 'camp over' for the Year 7 groups as part the Cams Hill Award. On arrival, pupils were able to put up their tents and then play sports and complete team building events.
The aim of the award is to build confidence, independence, resilience and social skills but hopefully for the pupils to have fun and enjoy a new experience.
---
Pride Month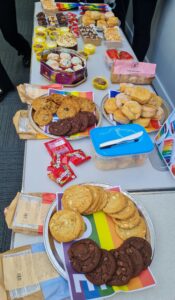 As we continue to celebrate Pride this month, pupils from the Alphabet Association brought in lots of home baked treats to raise money for the Solent Minds Charity. The pupils worked fantastically as a team, each member of the club having a responsibility such as dealing with money and handing over the scrumptious treats to the wave of pupils eager to try their cakes.
The team raised over £100 for the charity. We are extremely proud to work alongside such hardworking and determined young people of Cams Hill School.
---
Puzzle of the Week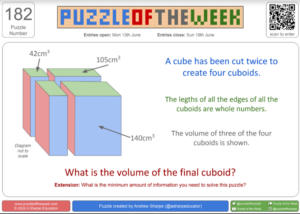 We invite pupils, parents, and carers to enter.  To do so, please go to:  https://www.puzzleoftheweek.com/home and register.  Pupils need to use their school email address.  You will be sent a User Code to submit your answer each week.
---
.