Weekly Message 147 – 13 May 2022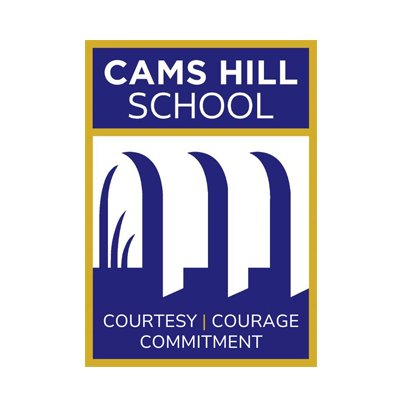 13th May 2022
Credit Averages for This Week
Year 7                  9.59
Year 8                  10.20
Year 9                  5.63
Year 10                4.67
Year 11                1.98
What a day! Today has been all about Year 11 as they conclude their last school week ahead of their final exams. Following a fantastic morning of sport, fun and laughter led by the PE Department, with their tutors and other members of staff, the Class of 22 celebrated their time at Cams Hill School in their Leavers' Assembly, reminiscing and looking forward as they leave us to pastures new.
The first exam (RS) takes place on Monday 16 May 2022. We remind pupils that over the next two weeks they are expected in school every day and when they are not in exams they are expected in lessons. Study leave comes into play from week beginning 6 June 2022 when live online lessons will be available.
We ask Year 11 pupils to routinely remind themselves of when and where they need to be each day, referring to the information we have shared. If there are any queries or questions, please get in touch with either the Year 11 Team or the Examinations Officer who will be more than happy to help.
Year 11 pupils left the school site this afternoon to a round of applause from every pupil and every member of teaching and support staff as the school community united in a 'Clap out'. It goes without saying we wish all our Year 11 pupils the very best over the coming weeks, reminding them and their parents and carers that it is our absolute aim to support them every step of the way.
---
Junior Maths Challenge Results – our biggest ever and the best results by far!
We had almost 180 Year 7 and Year 8 pupils take on the Maths Challenge on 27 April 2022; far more than in previous years and, boy, did they rise to the challenge.
With pencils and erasers at the ready, they attempted 25 fiendish maths problems in what was for many their first formal 'exam' experience. They performed with great enthusiasm and 70 pupils gained awards. We had 42 Bronze Awards, 21 Silver Awards and no less than 7 Gold Awards. Four pupils had even greater success as they have progressed to the next level to be held next month. A huge well done to all involved.
---
The Travelling Soul Band Visit to Wicor Primary School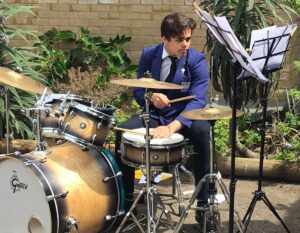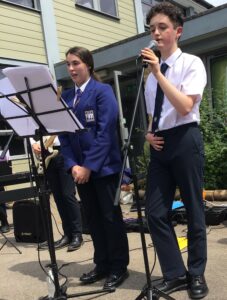 On Monday, the Soul Band visited Wicor Primary School to play a set of classic soul songs.
They performed outside in the sunshine to a very appreciative audience of pupils and staff. This was the first time the band have performed at a venue beyond Cams Hill School, and this was a brilliant way to start.
---
Big Ideas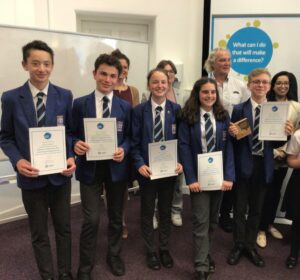 This week four teams of pupils competed in the regional finals of the 'Solutions for the Planet Big Ideas' competition.
The pupils were invited to Portsmouth University to present their ideas to a panel of judges. Despite some early nerves, every team presented incredibly well and one of our teams (Chloroplastics) finished as runners-up. All the teams worked so very hard on their ideas, and we are immensely proud of their achievements.
---
Duke of Edinburgh's Award – Bronze Expedition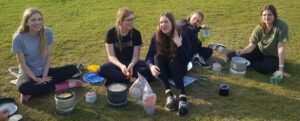 Last weekend we took 30 pupils on their Bronze expedition assessment. They hiked around the Queen Elizabeth country park for 15-18km each day and camped at Butser Ancient Farm overnight – it was a much warmer experience than the previous trip earlier this term! The pupils did outstandingly well and were a real credit to themselves and the school.
All pupils passed this element of the award and are now on track to complete the Bronze Award. We even had time for birthday celebrations for an individual pupil on the Saturday. Very well done to all involved.
---
Year 10 Athletics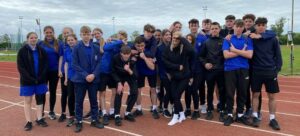 The Year 10s put on a phenomenal performance yesterday at the Mountbatten Centre in the Gosport and Fareham District Athletics
The boys were crowned District Champions and the girls' team were placed 2nd.
Overall, Cams Hill placed joint first with Crofton; however Crofton claim 1st place overall with more individual first place results.
A selection of individuals have been selected to represent Gosport and Fareham District in the Hampshire Athletics Championships.
F Grinyer Shot Put
D Jones Javelin
F Rowe 1500m
---
Attendance
Please see below attendance figures for our pupil cohort this past week.
This week (w/e 13 May)                          91.6%
Last week (w/e 6 May)                          91.5%
National Average year to date             89.7%
---
Puzzle of the Week
We invite pupils, parents, and carers to enter.  To do so, please go to:  https://www.puzzleoftheweek.com/home and register.  Pupils need to use their school email address.  You will be sent a User Code to submit your answer each week.