Weekly Message 133 – 14 January 2022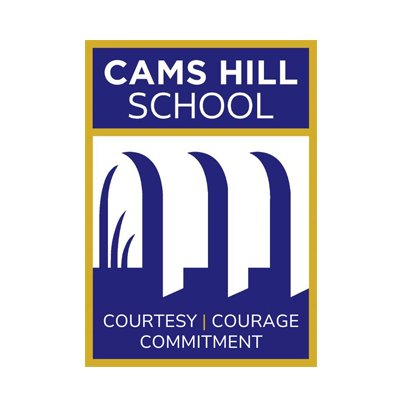 14th January 2022
Credit Averages for This Week
Year 7                  9.58
Year 8                  8.09
Year 9                  7.24
Year 10                7.15
Year 11                4.97
Well done to the Year 11 pupils who sat external exams this week in Health and Social Care and Hospitality and Catering. The pupils have prepared themselves well and we hope that their hard work will be reflected in the results they achieve.
It has been particularly cold this week and we ask parents and carers to ensure that their children are suitably dressed for the cold weather. We also remind pupils that they do have the option to wear a plain blue round necked jumper or PE jumper under their blazer for an extra layer of warmth (hoodies and jumpers with logos are not permitted).
On Wednesday, pupils were issued with further COVID self-testing kits and a letter was sent to parents/carers which included information about the changes to isolation rules for people who have tested positive for COVID-19. Please follow this link for further information about isolation rules which come into effect on Monday 17 January 2022:
https://educationhub.blog.gov.uk/2022/01/14/isolation-rules-have-changed-what-does-this-mean-for-families-and-schools/
---
INSET Day – Friday 28 January 2022
We remind parents/carers that as per the calendar the school is closed to pupils on 28 January 2022 as it is an INSET Day. This is the annual Fareham and Gosport Collaboration Day with colleagues training together and sharing best practice online, across secondary schools in Fareham and Gosport.
---
Year 10 Parents' Subject Evening – Tuesday 18 January 2022
We remind parents and carers that the Year 10 Parents' Subject Evening is taking place on Tuesday 18 January 2022. The evening will be held online, and parents and carers should be in receipt of the specific details about booking a meeting with each of their child's teachers. It is still possible to make bookings if parents and carers have not yet been able to do so.
Teachers are looking forward to the opportunity to feed back to parents/carers on how their child has settled into their Key Stage 4 courses and the progress they are making.
---
Jack and the Beanstalk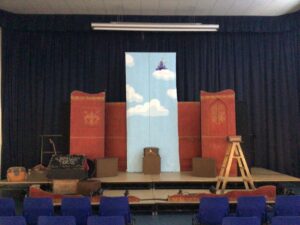 Today, Bumblefly Theatre Company brought their show of 'Jack and the Beanstalk' on tour to Cams Hill. Year 8 and then Year 7 pupils enjoyed an afternoon of fun, laughter and mischief. Bumblefly Theatre have a longstanding relationship with Cams Hill and it is a pleasure to let the pupils see the importance (and joy) of live theatre.
---
Key Stage 3 Crochet and Needle Crafts Club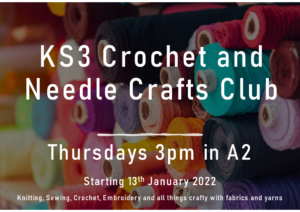 We are pleased to be able to promote our new Key Stage 3 Crochet and Needle Crafts Club which launched on Thursday 13 January 2022. There was a great turn out to the club this week which offers pupils the opportunity to learn a variety of new skills, spend time with people with shared interests and to explore their creativity with fabrics and yarns. If this is of interest, we invite pupils to join us in A2 in the Art Department every Thursday at 1500.
---
Headteacher's Blog
The Headteacher's blog contains more informal reflections and is available here:

https://camsheadteacher.wordpress.com/