Weekly Message 116 – 16 July 2021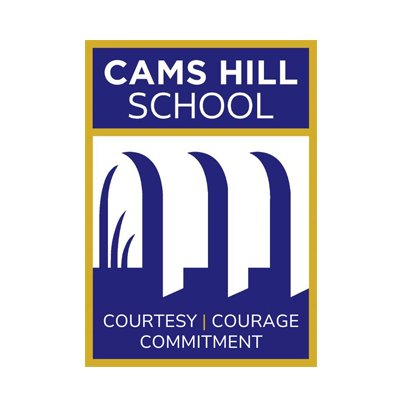 16th July 2021
Credit Averages for This Week
Year 7                  7.33
Year 8                  3.70
Year 9                  2.25
Year 10                2.91
Yet another busy and fun packed week at Cams Hill School and the penultimate week of the school year.
On Wednesday we held our House/Rewards afternoon with inflatables, crazy golf, BBQ and music in the mix. The atmosphere was fantastic as pupils enjoyed a well-earned couple of hours in the sunshine in their year group bubbles with their peers. Congratulations to the winning House 'Endeavour' with the highest number of House points earned over the course of the year. We look forward to seeing next year's efforts as pupils in the other three houses look to knock 'Endeavour' off the top spot!
After earning their places on Wednesday, we also had a number of pupils representing Fareham and Gosport in the County Athletics Championships. The pupils were superb with a 2nd place in the 150m, 3rd in the vortex throw, 2nd in high jump (clearing 1.55m!!), 3rd in the 800m, 2nd in the vortex throw and 3rd in high jump. We congratulate all involved.
Today saw the first of our virtual end of term Celebration/Presentation Assemblies recognising the achievements of Year 8 pupils across the curriculum and as members of the Cams Hill School community – for more information, please read on. Assemblies for the other three-year groups are taking place next week.
---
Year 8 Celebration Assembly
This week Year 8 had their annual awards event alongside their end of term celebration assembly. Awards were given by subject to pupils who had gone above and beyond in their academic endeavours this year and also in their commitment to the real time provision.
We are incredibly proud of our award recipients but also of each and every Year 8 pupil whose resilience has continued to wow us daily. They have thrived in a year where obstacles were ever present.
---
Children's Business Fair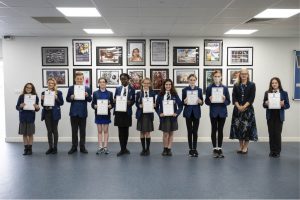 Last weekend a number of pupils from Cams Hill attended the Children's Business Fair in Fareham High Street. With their own businesses and own investments, the pupils ran a stall for the day, selling and promoting their products. Our teams won several awards; below are some of the judges' comments.
Best Stand – Scentz
Their efforts in presenting their scented candles and soaps were highly commended by the judges – one of whom awarded top marks across all categories and stated, "Very good knowledge and explanation".
Best Product – Megan's Vision Into Jewellery
Judges were very impressed by this pupil's homemade jewellery as well as her knowledge about her products. She made an impressive 60% margin too.
Best Sales Pitch – Bitz 'n' Bobs
A fantastic product (positive thoughts in a jar) that was very close to winning best product. Their own positivity, enthusiasm and broad smiles were also greatly appreciated by the CBF team.
Almost Eden – shifted a whopping £454 worth of painted flowerpot men, noughts and crosses and watering cans. We absolutely loved their energy and incredible positivity.
Gem's Jewellery – the first politically motivated business we've seen at the CBF – and all the better for it. We loved having these pupils at the CBF and really hope they learned tons to give them the confidence to come back and try again.
Pinch of Magic– This duo's feedback was that "it was extremely fun". The judges thought that they had "lovely products and great knowledge." They were also highly impressed by their £145 revenue.
Cupcakes & Co – if there was a prize for most transformed, it would go to this pupil. Throughout the day, we observed her trying different techniques in selling her cupcakes and baked goods. This iterative approach led to her selling 135 cupcakes and bringing in revenues of more than £170. She also had the best quote of the day "I've learned that old ladies like cakes"!!!
---
Year 10 Team Building Activities – Wednesday 21 July 2021
On Wednesday 21 July 2021, Year 10 will be involved in a day off timetable with their tutors and PE department doing a range of team building activities.  The day will begin with their awards celebration assembly, followed by some Crystal Maze style activities and rounders as a year group.  Pupils can wear Cams Hill School PE kit on this day.
---
County Athletics Competition
On Wednesday 14 July 2021 we took 17 Year 7 and Year 8 pupils to the Southampton Sports Centre to represent Fareham and Gosport in the County Athletics competition. On a very hot day the pupils represented the district with pride and enthusiasm and recorded some very strong results. Out of the 17 pupils, six finished with a top three position in the County. Well done to all and we look forward to more Athletics next year.
---
New Prefects and Buddies
We are delighted to confirm that we have successfully appointed 21 senior prefects in Year 9 and 20 Year 7 buddies in Year 8.  Their applications were very professional and well-written and they are a credit to their year group.  Along with the Year 10 Senior Leadership team of Head Prefects, we now have a strong team of pupils moving forward into the new academic year.
---
Year 10 Virtual Taster Experience with Portsmouth College
On Wednesday morning all Year 10 pupils took part in a virtual taster experience with Portsmouth College. They not only found out what Portsmouth College has to offer but also useful information about types of courses and college life. We hope that all of Year 10 are now considering their next steps and hope to run in-person events as soon as restrictions allow.
---
Skoolkit
Skoolkit are holding a discount week for Year 6 parents/carers only.  Below are links to details about the discount week and Skoolkit's price list.
Skoolkit discount week 24 July 210624