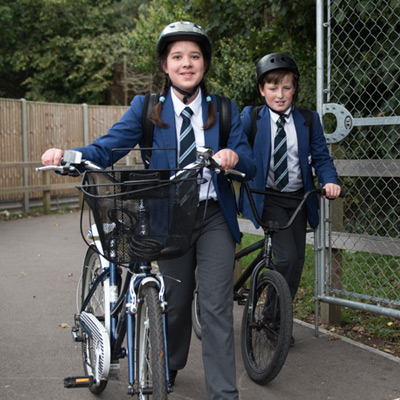 ROAD SAFETY
Teaching Road Safety: A Guide for Parents https://www.rospa.com/media/documents/road-safety/teaching-road-safety-a-guide-for-parents.pdf
Safety First – Cycling at Night https://www.cycletraining.co.uk/cycle-training-and-cycle-safety/safety-first-cycling-at-night/
Be Bright, Be Seen Poster https://6282.s3-eu-west-1.amazonaws.com/Be_Bright_Be_Seen-A5-Flyer.pdf
Keeping Children Safe in the Dark https://firstaidforlife.org.uk/keeping-children-safe-in-dark/
Dark Nights https://www.childcare.co.uk/information/dark-nights-children-safety
Be Bright Be Seen https://brightkidz.co.uk/initiatives/be-bright-be-seen/
TRAVEL BY BUS
We do not provide our own bus service. For information on bus services contact First Bus on the link below.
Free bus passes, for those eligible, are provided by Hampshire County Council. Please contact them on the link below to check eligibility and apply.
https://www.hants.gov.uk/educationandlearning/schooltransport
riding bicycles to school
Pupil safety whilst using bicycles is of paramount importance.
• All pupils wanting to cycle to and from school must hold a valid Cycle Permit.
• Helmets must be worn at all time whilst pupils are cycling to and from Cams Hill School.
Cycle Permit
Please apply for a helmet Once a cycle permit is issued, it is the pupil's and parent's responsibility to ensure that the bicycle is maintained in a roadworthy condition and a good quality bicycle lock is used. Within the school premises there are two bike rack shelters for pupils to store their bicycles, whilst every effort is made to provide security for bicycles, the school cannot accept responsibility for any loss or damage to bicycles brought onto the premises. Parents are advised to take out appropriate insurance cover as the school's insurance does not cover loss or damage to bicycles.
It is not advisable for pupils to cycle on the A27 roadway, Hampshire County Councils Road Safety Team recommends cyclists use the designated cycle and pedestrian paths whilst on this road. We ask parents to reinforce our efforts in stressing the very real dangers of this busy main road. All cyclists must dismount at the school gate and walk with their bicycles to the bike rack shelters (pupils are expected to wear their helmets at all times when riding their bicycles).
Download Cycle Permit Form here
Helmets
All pupils should wear a cycle helmet which conforms to current regulations, is the correct size and securely fastened (Rule 59 of Rules for cyclists The Highway Code).
Where a pupil is found to be cycling without a helmet, parents/carers will be informed. For subsequent non-compliance parents will be contacted to provide a helmet or collect the cycle thus avoiding the need for a pupil to cycle home unsafely. Further impositions will also be applied. The school reserves the right to withdraw a pupil's cycle permit at any time.
Riding mopeds to school
Download Moped Permission Form